The five-year-old girl changing perceptions of Down's syndrome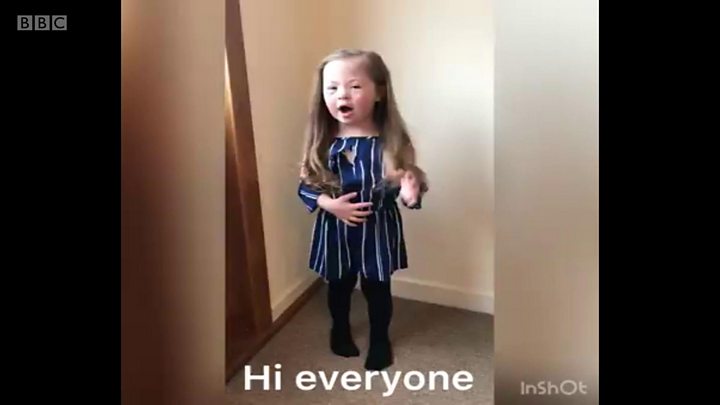 A five-year-old girl's video raising awareness of Down's syndrome has been watched almost 10 million times on Facebook.
The video of Chloe Lennon was filmed by her mum Jade to promote worldwide awareness day on 21 March.
Jade, from Irvine in Ayrshire, said Chloe was changing perceptions of children with the condition.
She said she had been contacted by people from around the world "inspired" by the five-year-old's video.
Jade told BBC Scotland the "positive" reaction to Chloe's video had been "overwhelming".
In the past, she said she had experienced a "few horrible" comments about Chloe's condition, both online and in person.
Jade said the aim of the video was to break the stereotypes about Down's syndrome.
She said: "Chloe is just like any other five-year-old and it is heartbreaking when people take one look at her and assume she is not intelligent and she is not capable.
"She is capable, as are all people with Down's syndrome."
After the video went viral, Jade was contacted by a mum-to-be in the US who had found out at her 20-week scan that her baby boy had Down's syndrome.
The expectant mother said she had been battling back and forth about whether to keep the baby or to terminate.
Jade said: "She didn't know what to do.
"She told me she came across the video of Chloe and watched it, then looked at some of my posts on Facebook.
"She talked to her partner and showed it to him and they have decided to go ahead with the pregnancy based on seeing all the things Chloe has achieved."
Jade said she was overwhelmed.
"I was in floods of tears," she said.
"It's such a nice feeling knowing Chloe is changing perception and people are not as scared of children with the condition.
"It's not a death sentence, it's not the end of the world."
Another message came from a woman saying she is pregnant and her partner is struggling with their baby's pre-term Down's diagnosis.
Jade said: "She is fine, she has accepted it, and is looking forward to having her baby, but it was her partner that was struggling.
"After showing him Chloe's video she said it was as if a light had gone on in his eyes. He doesn't have as many fears and she can tell there is a change in him."
Jade said she wished she had seen something like Chloe's video when she was coming to terms with having a child with Down's syndrome.
It was during a private scan at 30 weeks that medics picked up on Chloe's Down's-related heart condition. She had to have open heart surgery within 10 days of being born.
Jade had been told there was a 50-50 chance of Chloe having Down's syndrome.
Jade said: "For the last nine weeks of my pregnancy, I was a wreck and it was all down to the fact I didn't know anything about it.
"Thinking back, if I was scrolling on Facebook one day and I saw Chloe's video it would have made me a lot calmer."
In Chloe's video, she introduces herself and explains that World Down's Syndrome Awareness Day is on 21 March and that people should wear odd socks on that day.
The "Lots of Socks" celebration is adopted worldwide because chromosomes resemble socks and people with Down's syndrome have an extra chromosome.
Supporters take part in sponsored odd socks days.
The video has been shared more than 330,000 times across the world.
Jade said she was stunned at the response.
She said: "I've had 7,000 comments and so many messages. I am so proud of Chloe for being such a positive influence.
"Children and adults with Down's syndrome can do what everyone else can do, as long as that support is there."
Jade and Chloe are also starring in a video created by a group of mums who have children of the same age with the condition.
The "50 mums, 50 kids, one extra chromosome" video was made by the Designer Genes 2013-14 group after 50 mums filmed themselves in their cars.
The result is a message about disability, diversity and inclusion.
The film, which will be released on Friday, aims to popularise the social media hashtag #wouldntchangeathing.