Dogs died after walker left them in van in Glasgow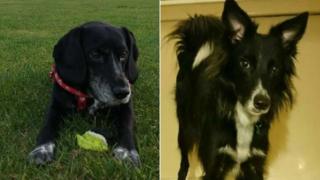 A dog walker has been given a community payback order after two dogs died and another two suffered heat stroke when she left them in the back of a van.
Helen Campbell, 59, owner of Nose2tail-K9, said she "lost track of time" during a business meeting in Glasgow last June.
She pled guilty to two charges under the Animal Health and Welfare Act at Glasgow Sheriff Court.
The sheriff said it had been an "incredible breach of trust".
The court heard the dogs were left in a van outside Knightswood Community Centre on 14 June 2017.
When Campbell returned to the vehicle two dogs - Milly and Cody - were already dead and another two - Spencer and Kobe - were suffering heat stroke.
She admitted confining the dogs within her van, exposing them to excessive temperatures and failing to provide water and ventilation and immediate medical treatment. Campbell initially lied about what had really happened and claimed the dogs had run off and had been found like that.
Sheriff Peter Grant-Hutchison said it was open to him to impose a custodial sentence.
He added: "I believe you are truly contrite, and so you should be."
He gave Campbell a community payback order with 116 hours unpaid work to be completed within nine months and disqualified her from keeping animals for 20 years.
'Unacceptable'
The case was brought to court following an investigation by the Scottish Society for the Prevention of Cruelty to Animals (SSPCA).
SSPCA Inspector Gillian Dick said: "This is a heartbreaking example of why dogs should not be left in hot cars.
"The van was a totally unsuitable environment for dogs to be kept, especially on such a hot day.
"The dogs were left alone for two and a half to three hours which is unacceptable."
The charity said Campbell's failure to inform the owners what had happened resulted in the dogs receiving the wrong treatment.
Ms Dick added: "We welcome the fact that Campbell has been dealt with by the court and the sentence handed down.
"We hope that the outcome of this case highlights the dangers of leaving an animal in a car on warm days."