Firearms doctor had 'homemade gunpowder' in his house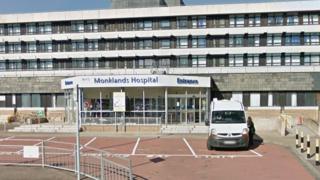 The trial of a retired doctor caught with a haul of firearms has heard he had what appeared to be homemade gunpowder in his home.
Former Monklands Hospital consultant Martin Watt, 62, is accused of possessing firearms with intent to endanger life.
A forensics expert said he found a substance in Dr Watt's Cumbernauld home which he believed to be gunpowder.
An explosives handbook was also found in Dr Watt's internet search history.
Forensic case officer Michael Leetham told the court he analysed a substance found in Dr Watt's home which he believed was homemade gunpowder.
The court then heard from police officer Jamie Routledge who was one of the officers who searched the medic's home in May 2017.
He talked through the search history on Dr Watt's computer which included a step-by-step guide of how to make explosives.
The court also heard that a photograph of a medical director from NHS Lanarkshire was found on his laptop.
Dr Alison Graham was involved in proceedings relating to Dr Watt when he was an A&E consultant at Monklands hospital in Airdrie in 2010.
Internet searches
She was shown a photograph of herself and said it was displayed in the foyer of the hospitals where she was medical director.
When asked if she knew of any reason why Watt would have that picture of her on his computer she said: "No, I have no idea."
In earlier evidence the court saw her name featured in internet searches made on Dr Watt's computer.
Dr Graham was giving evidence at the High Court in Glasgow where Dr Watt is on trial for using submachine guns and pistols with intent by means thereof to endanger life between March 2013 and May 2017.
He denies this but admits having in his possession most of the firearms the police found at a house in Condorrat when it was searched.
Dr Graham, now the medical director of NHS Ayrshire and Arran, was asked if she was involved in an investigation relating to Dr Watt.
She said she was, at the end of 2010.
Disciplinary proceedings
The court heard Dr Watt was off work on health grounds after suffering a heart attack and having surgery.
He was due to get back to work on a phased return but was "upset" by this and never returned.
Jurors were told the A&E consultant was subsequently dismissed after disciplinary proceedings.
Dr Graham said she gave evidence during these proceedings.
PC Routledge was also shown pictures of cars and their registration plates which were found on Dr Watt's computer.
One belonged to Thomas Steele, a non-executive director of NHS Lanarkshire.
The trial before judge Lady Stacey continues.