Section of roof blows off Glasgow hospital as high winds arrive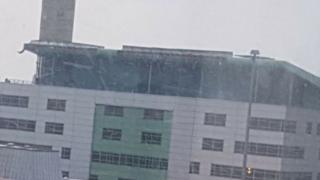 A section of roof has blown off at Glasgow's Royal Infirmary as wintry conditions continue.
High winds have dislodged several roof panels of insulation material on top of the Princess Royal Maternity Hospital building.
NHS Greater Glasgow and Clyde said an area had been cordoned off around the building as a precaution as safety experts assess the damage.
No one has been hurt and the situation is not affecting patient care.
Live: Red snow alert ends but warning remains
A spokeswoman said: "We can confirm that a number of roof panels have become dislodged or loose from the roof of the Princess Royal Maternity Hospital.
"Our estates team are on site at present, assessing the damage and making the surrounding area safe.
"Police Scotland and Glasgow City Council have been notified.
"No one was injured in the incident and patient care has not been disrupted."
Local SNP councillor Allan Casey tweeted: "Please be careful around Glasgow Royal Infirmary as I am hearing reports that part of the roof has sustained some serious damage.
"In and around Alexandra Parade & Wishart Street - please be careful.