Army called in to transport vital NHS staff to hospitals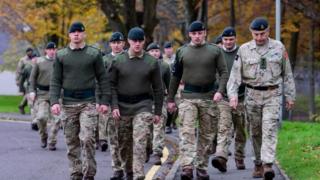 The Army has been drafted in to help 200 NHS staff get to work in Edinburgh.
Using 4x4 vehicles provided by the Ministry of Defence, Police Scotland and the Scottish Fire and Rescue Service, soldiers started moving staff on Thursday evening.
They will support shift changes at the Royal Infirmary of Edinburgh and the Western General hospitals while the severe weather continues.
The amber weather warning remains for most of Scotland until 10:00 on Friday.
NHS Scotland faces a potentially critical situation because of the impact on weather conditions has had on their staff's ability to move to and from work. 
'Dedication and sense of duty'
Patient transfer will continue to be provided by the Scottish Ambulance Service, who have sufficient staffing levels.
Defence Secretary Gavin Williamson said: "Our Armed Forces stand ready to help as Britain is hit by severe weather.
"Our service personnel are showing great dedication and a spirited sense of duty as they support local authorities and keep people safe."
Health Secretary Shona Robison said: "The Scottish Government's Resilience Coordination Centre is continuing to work with local authorities and public services across Scotland and ensure they have the support they need and we have acted quickly on a specific request from NHS Lothian.
"My priority is the safety of staff and patients and the measures we have put in place will ensure these are protected during challenging circumstances."
It comes after several commercial companies that use 4x4 vehicles worked together to get healthcare staff to and from two hospitals in Glasgow.
Sixteen vehicles and drivers have been on the roads of the west of Scotland helping out.
Ross McKinnon from events company Amazing Days started the effort on Wednesday evening.
'A big help'
Healthcare support worker Caroline Wilkie said: "The guys at Amazing Days Scotland were fantastic. If it wasn't for them I would still be stuck at work from yesterday morning. I honestly can't thank them enough. They are legends (and I) am sure all NHS Greater Glasgow and Clyde staff are thankful too them for helping us all get home.
"If I never got home I would have had to try and walk it home to get back home to look after my child - big help."
Another good Samaritan, Graham Sim from Strathblane, BBC Radio Scotland's Newsdrive programme how he had helped a number of people get around in his 4x4.
He said: "I left house this morning and battled through the snow.
"It was like a scene from The Walking Dead.
"I picked up a nurse who was going to the Queen Elizabeth.
"After I dropped her off I picked up a lab worker who was going to the Queen Elizabeth.
"And then, to my shock, there was a young man trying to walk through the (Clyde) tunnel.
"He didn't know Glasgow too well as he was from Jura.
"I picked him up and then went to Kelvingrove Park."