Man jailed after threatening to torch building site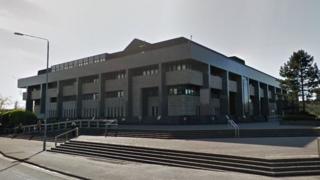 A man who threatened to burn a building site to the ground and torch a car if he was not given a security job has been jailed for almost three years.
Joseph McKinlay, 36, was originally "fobbed off" by Robert Faulds when he went to the Cruden building site.
But he returned on a number of occasions, demanding work to prevent vandals targeting the site in Pollok.
McKinlay admitted attempting to extort money from Mr Faulds between 10 July and 8 September last year.
He also admitted a charge of being in possession of a machete on 14 September last year.
Glasgow Sheriff Court heard he told Mr Faulds he would burn part of the site to the ground and added: "I will let the young team in - they are dying to get in here."
Jailing McKinlay for 34 months, Sheriff Daniel Sculion told him: "I am satisfied only a significant period of custody is appropriate."
'Fobbed off'
The court heard there had been a spate of vandalism and fire-raising at the Pollok building site, which was owned by Glasgow Housing Association. The building work was being done by Cruden.
In July last year McKinlay approached Mr Faulds, 46, the site manager, and said he had heard about the problems at the site.
The father-of-six "unsettled" his victim by saying he could "make it stop", but at that point was "fobbed off".
He returned again the following month and let himself into Mr Faulds' office and asked if he remembered him.
Procurator fiscal depute Mark Allan said: "He said: 'This is how it's going to be, you will provide me with a bothy to sit in and I will guarantee there will be no further incidents'.
"He told Mr Faulds that if he didn't go along with this then the two house kits constructed would both be burned to the ground.
"He said: 'I will let the young team in, they are dying to get in here', referring Mr Faulds to the local youths who had been around the area creating difficulties for them."
Scared and intimidated
McKinlay demanded £500 a week for the job.
When he returned the next time, Mr Faulds saw him coming.
Mr Allan said: "Mr Faulds described himself as feeling scared and intimidated by McKinlay.
"He described McKinlay on this occasion being frustrated and agitated and accused Mr Faulds of disrespecting him and not taking him seriously."
He threatened to steal the CCTV cameras, "burn the site to the ground" and "torch" his car.
Defence lawyer Garvey McArdle said his client was looking for work at the time and "wishes to apologise" for his behaviour.