Primary pupils fight back against vandals in video message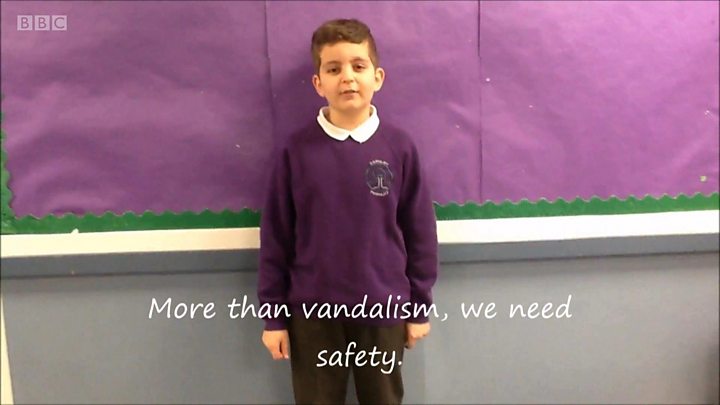 A primary school class from Glasgow have recorded a video message to vandals who ransacked their classrooms.
Pupils and staff at Darnley Primary turned their frustrations into actions after the school was targeted for the second time in two months.
The children in teacher Emily Cowden's primary six class were angry at how the vandalism affected them.
They developed the video message to tell those responsible what they did.
The YouTube video is based on Charlie Chaplin's speech in his 1940 film The Great Dictator in which he makes an impassioned plea for human decency and goodwill.
'Children were frightened'
Head teacher Emma McGill said: "We had two break-ins when people managed to get inside the building and rifle through files and cupboards.
"We also had a window that was smashed and had to be repaired.
"Both of those had an impact on the children, even in the short-term of having classrooms with boarded up windows and areas of the school that we couldn't access due to glass and waiting for the police.
"They were upset. Some of our children were frightened thinking about what would happen if something like that happened during the school day."
Miss Cowden's class decided to do something about it.
Mrs McGill said: "They were already working on a topic on refugees and had been thinking about life and how it can be unfair and how they could get involved in changing that.
"They are a very creative class.
"Miss Cowden showed them the Charlie Chaplin speech and they had seen the WWI Kitchener posters so they used that to appeal for help."
The result is a powerful message to the vandals, delivered by the pupils themselves.
"I don't want to be a victim," it begins.
It continues: "We want to live by each other's happiness, not by each other's misery.
"In the name of Darnley, let us fight for a safe community, a happy community that will give both boys and girls a chance to flourish."
Mrs McGill is proud of her staff and pupils for taking responsibility.
She hopes the vandals will get the message too. She said: "They should know how they are impacting people within this community. There are children whose library is out of commission, there's glass everywhere.
"One classroom had a boarded-up window so they didn't have any natural light.
"This impacts on children and their learning and it can frighten some of them.
"I hope they'd see the consequences and repercussions of their actions."