Kilcreggan ferry firm reported over lack of service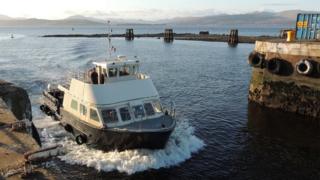 A ferry company has been reported to the procurator fiscal over its failure to provide a service for 11 days.
The last sailing of the publicly-funded Kilcreggan ferry to Gourock was on Monday 12 February with the operator, Clydelink, blaming electrical problems.
Its contract with Strathclyde Partnership for Transport is due to end in July.
The Maritime and Coastguard Agency (MCA) confirmed that a report had been sent to the prosecutor.
Clyde Marine is due to take over the contract on Sunday 15 July having become the only company to submit a bid.
It previously ran the service for more than 30 years until 2012.
MSP Jackie Baillie has written to the chairman of SPT asking him to "do everything possible" to replace the current operator earlier than planned.
In her letter to Councillor Martin Bartos, she said: "Unless action is taken to resolve the situation, there will be no service to deliver by the time the new contract comes into effect."
In the last year, Clydelink has been forced to withdraw service on both its Kilcreggan and Renfrew routes following technical problems and failed inspections.
Clydelink has been unavailable for comment.
On Thursday, a spokesperson for Transport Scotland said: "The responsibility for the Gourock-Kilcreggan ferry service lies with SPT, but we are well aware of the recent significant disruption and understand the frustrations of the passengers that rely on this link.
"Discussions between SPT and Transport Scotland around a potential transfer of responsibility are continuing".
An MCA spokeswoman said: "The MCA can confirm that a report has gone to the procurator fiscal about the operation of Clydelink Ferries."