Crime gangs net £7m from sophisticated bank phone fraud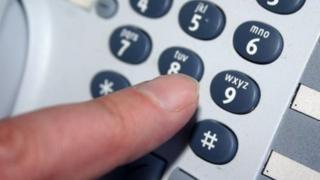 Organised criminals posing as bank anti-fraud experts have used elaborate phone scams to con businesses and a pensioner out of more than £7m.
Police Scotland are investigating 19 attacks thought to have been carried out by five UK gangs.
Charities, construction and law firms have been targeted by vishing since last summer, with one duped out of £2m.
Some calls lasted just 10 minutes and the victims include an 88-year-old who was robbed of her six-figure savings.
Hamilton Academical are the most high profile known target after the club's accounts were emptied of almost £1m.
Det Insp Graeme Everest, of the force's economic crime and financial investigation unit, warned that criminals are using popular apps, such as Skype and WhatsApp, to make landline calls.
Cloning phone numbers
Crucially, they can control the caller display number, using a technique called Spoofing, so it appears to be a genuine bank number.
He said: "Sometimes the criminals are asking the victims to Google the number that they have and check that it is the bank.
"What I would say is that your bank will never, ever phone you and ask to undertake any transaction.
"They will never, ever phone you and tell you there has been a fraud on your account."
Police believe Scots fraudsters are involved in the gangs and that those responsible also have links in Europe and further afield.
Charities at risk
Det Insp Everest added: "Money comes out through a series of mule accounts which are primarily around the London and south of England area.
"Even if they are outwith the UK they need connections to the UK to ensure they get their money. "
Police said criminals often carry out research before making an approach and charities are particularly vulnerable as their bank account details are online.
Asked about the scale of the fraud, Det Insp Everest said: "We have had a number of different sums ranging from £17,000 up to £2m.
"The impact that can have on a business is quite significant."
Callers typically purport to be from the bank's fraud centre and claim there has been some suspicious activity on the account.
Det Insp Everest said the gangs tend to strike towards the end of the working day or at dinner time in a bid to catch victims when they are tired or distracted.
He said: "They extract all sorts of information from them.
"They get the individual to reveal their entire password and their pass code."
In some cases the call can last between 10 and 15 minutes while in others the contact can be spread over a number of days.
The criminals move swiftly when they get an opportunity.
Det Insp Everest said: "The money tends to get moved very quickly and that's why they have to have a lot of organisation.
"The banks can spot movement usually pretty quickly so, say you are looking at someone who is contacted at 1pm, by 5pm most of that money has been moved through two or three layers of bank accounts."
Gangs split the cash between mule accounts to avoid attracting suspicion.
In the case of the business which lost £2m the money was initially divided and shared between 74 UK-based mule accounts over the course of two days.
The funds were then split and moved again in a bid to keep the gang off the law enforcement radar.
Those who allow their accounts to be used as mules receive a payment.
Detectives are also aware of criminals asking individuals to download software which allows them to remotely access a target's computer.
Police Scotland have not made any arrests in connection with the spate of major vishing attacks since last July.
Det Insp Everest said: "I believe the individuals involved are leading extravagant lifestyles and spending a lot of money."
'Really professional'
Hamilton chairman Ronnie MacDonald said the gang that targeted his club were highly skilled.
He told BBC Scotland: "I think these people, it has got to be said, are very, very clever and very good at what they did.
"They build up trust by approaching an individual and make the individual believe that he is so important to avoid fraud being perpetrated in the club.
"Their story is that somebody is about to do it and they are there to protect us.
"They pretend to be from the bank's security squad and gain his confidence and then, to avoid the money being lost, instruct him to, so-called, protect the money by moving it into a different account."
The club recently announced it plans to sue RBS over the losses it suffered.
Mr MacDonald added: "I think we can all be gullible and I think that is the real problem.
"I have heard all the recordings and they are really, really professional at what they do."