Glasgow man jailed for supplying kilo of cocaine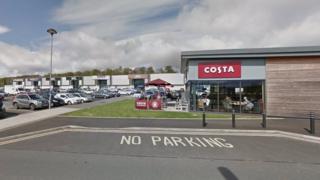 A man who became involved in drug dealing after borrowing money from loan sharks to pay for a family funeral has been jailed for three years.
John McNeil, 49, was caught by police supplying cocaine at Robroyston Retail Park in Glasgow on 7 March 2017.
Officers discovered one kilo of the drug in his possession, which has a maximum street value of £405,000.
Heroin worth £75,000 was later found during a search of his house in Lambhill, Glasgow.
Defence advocate Kevin McCallum told the court that his client was a first offender who became involved in crime after borrowing £5,000 to pay for a funeral and headstone for his deceased family member.
When Mr McNeil was unable to make repayment, he was told to take the drugs to the retail park and to store items in his house in return for "a significant amount" of his debt being wiped out.
"degree of coercion"
Mr McCallum said his client accepted his guilt and asked judge Lady Carmichael for mercy because McNeil was the main carer for his wife, who has a serious heart condition.
He added: "He accepts he made the wrong decision, a criminal decision. He accepts a prison sentence is inevitable."
Passing sentence, Lady Carmichael said: "There is evidence that you were subjected to a degree of coercion in this case. But there is not evidence to establish that there are special circumstances.
"Therefore a custodial sentence is inevitable.
"I take into account your familial circumstances. Had you not have pleaded guilty the sentence of the court would have been one of four-and-a-half years."