Parents' anger over magnetic putty health fears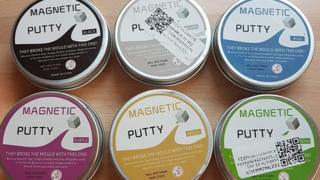 Fears are growing over the safety of a children's toy after a schoolgirl was allegedly found to have 10 times the safe limit of arsenic in her system.
The mother of seven-year-old Neve Kelly from Wishaw posted a warning to parents when her daughter fell ill after playing with the putty.
The putty has been removed from sale by retailers Amazon and Groupon.
Now other parents fear their children could become unwell after contact with the substance.
Frances Kelly and her husband Mark are seeking legal action after being told by medics Neve had high levels of the chemical in her system.
Mrs Kelly, 37, posted a warning on her Facebook page urging parents to get rid of this particular brand of putty.
Her warning refers to one particular brand and not all magnetic putty items. This particular example does not carry the CE mark to demonstrate compliance with EU safety, health and environmental requirements for goods.
A magnet included in the banned toy was found to be 29 times over the allowed magnetic force and could be "easily swallowed".
It also contained twice the amount of permitted lead.
Now other parents are concerned.
Michelle Ralton from Wishaw bought the black version of the putty from Groupon for her son Dean.
'Stomach pains'
She said: "I saw the post from Frances about her little girl and I noticed it's the very same tin that I got my son.
"My son is 7 and has Asperger's and is quite bad for putting things in his mouth. I took the putty away after a week because he kept putting the magnet in his mouth.
"I'm now horrified and angry and worried sick. When I spoke to the nurse at NHS24 she asked about symptoms and sickness and it dawned on me he had a few sickness bugs since Christmas that we didn't catch.
"He'd been complaining of stomach pains too.
"I'm trying to speak to someone from Groupon to find out why I was not warned or even notified of the reason I was refunded.
"I have been advised to scrub his bedroom and any surface that's come into contact with the putty.
"If my son has any swelling in his mouth I have to take him to A&E and I've to contact my GP if he has anymore bouts of tummy pain or 'sickness bugs'."
Another mother, Lisa Watt from Prestonpans, bought the putty in gold and silver for her five-year-old twins Jude and Harris as stocking fillers.
She stopped the boys playing with it because it was badly staining their hands.
She said: "I wondered what was in it to make it do that."
'Exciting and different'
She received an email from Groupon telling her to dispose of the product and offering a refund.
She didn't realise why until she saw reports about the putty being withdrawn.
She said: "I spoke to my husband and decided to call the doctor first thing on Monday,
"We were advised that if the twins were showing no symptoms they should be fine but I was really shocked - my children could have been playing with it daily."
"It's horrific something like this can get out there.
"Kids love things like this that are exciting and different so it's terrible this could happen."
A Groupon spokesman said: "Customer safety is our number one priority. The product is no longer available on our site and we have begun an investigation with the supplier.
"We are speaking to customers to tell them to stop using the product immediately. It goes without saying customers will be refunded for their purchase."
Amazon said if users had concerns they can contact their customer service.
Auction site eBay said the listings have been removed and anyone who had an item they were unhappy with should contact them immediately.
What is arsenic?
Arsenic is a natural chemical element which is present in air, water and land
When it is found in inorganic form it is highly toxic and long-term exposure can cause cancer and skin lesions
Early childhood exposure has been linked to negative impacts on cognitive development and increased deaths in young adults
Source: World Health Organisation