Council's frozen wheelie bin claim mocked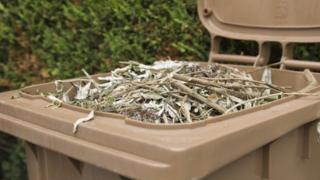 A council has faced ridicule from residents after claiming wheelie bins could not be emptied because of cold weather.
Renfrewshire Council said it had been unable to carry out collections on Wednesday because the contents inside the bins had frozen.
They had been due to empty brown bins, containing food and garden waste.
The local authority told residents they would have to wait until the next scheduled date in two weeks time.
In a statement posted on its Facebook page, the council said: "Brown bins could not be collected today as their contents froze in the icy weather.
"They will now be collected on the next scheduled date.
"Apologies for any inconvenience."
The post prompted an angry response from residents, with some asking if it was a "wind up", while others suggested the local authority "freeze council tax" instead.
One post said: "This has to be a joke right??? By the time it reaches its destination it will be thawed out".
Another wrote: "I have heard some belters, but this one is a cracker."
Temperatures across Renfrewshire on Wednesday dropped to -4C, although climbed to 2.3C by the afternoon.
'Frozen bins'
A Renfrewshire Council spokeswoman said general waste and recycling bins had been unaffected by the cold.
She added: "The sub-zero temperatures on Tuesday night meant that a small percentage of food and garden waste contents were frozen solid and compacted in the bins and so could not be removed the following day.
"This did not impact on general or recycling bins.
"Every bin was lifted for collection and material collected as normal for the vast majority of bins.
"Where the contents from frozen bins could not be released, these will be picked up at the next collection date."