Teenage racer John Gribben guilty over woman's death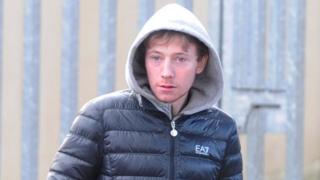 A teenager has been found guilty of causing the death of a 59-year-old woman while racing at up to 140mph.
A jury also convicted John Gribben, 19, of Ayr, of dangerous driving two months after the fatal accident.
Joan Price died in a head-on crash on the A77 in Ayrshire on 30 January last year.
Logan Knox, 20, from Coylton, is already serving a sentence after he admitted causing Ms Price's death by driving dangerously.
The pair had been racing against each other on the A77 in Ayrshire, near Prestwick Airport, when the crash happened.
Knox told the High Court in Glasgow he had been travelling at up to 140mph.
The jury heard he saw Gribben at Heathfield Industrial Estate that evening where he spoke to him before driving off.
When he got to the Whitletts roundabout Gribben, who was driving an Audi A3, pulled up behind him.
The labourer, who was behind the wheel of his powerful Volkswagen Golf GTI recalled: "He was flashing his lights and waving at me."
Knox said they moved off and Gribben, a mechanic, was tailgating him.
Advocate depute Michael Meehan asked what he took that to mean and he replied: "Probably wanting a race."
Asked how he reacted, Knox said: "Put my foot down."
Knox said: "He was behind me for a while, I overtook a lorry, he got stuck behind the lorry."
He said it was "his decision to engage in a race".
The court heard that Knox overtook the lorry, in the face of oncoming traffic, and continued along the A77 towards the Holmston roundabout and tried to undertake a van but clipped the back bumper.
Jurors heard that Knox's car spun round the inside of the van and ended up in front of it, on the other side of the road where he crashed into Ms Price's Nissan Pulsar.
The grandmother died at the scene while her friend, Gillian Kay, was badly hurt.
Both women were returning home from band practice.
Ms Price, of Troon, South Ayrshire, was described in court as a "much loved wife, mother and gran".
The death of the mother of three, who had been married to her husband Colin for 26 years, had a "profound effect", the court heard.
Her fellow band member Gillian Kay also testified at Gribben's trial and said she was still badly affected by the ordeal.
The 40 year-old remains on crutches having suffered a fractured heel.
She has severe arthritis and is in "constant pain".
Describing the crash, Ms Kay recalled: "I was aware of a dark shape coming at what looked like very high sped towards us.
"That's the last thing I remember. I don't remember the impact itself."
She did recall Joan being "slumped" over the dashboard and believed she was already dead.
Knox accepted he was driving too fast. When asked to estimate his speed he said "probably about 140 at some point".
Gribben was also convicted of causing a second accident while driving at excessive speed on the A713, near to the junction with Ayr Hospital and the B742, on 31 March last year.
'Grave charges'
In his closing speech to the jury, prosecutor Michael Meehan said Gribben had been using "Ayrshire roads as a racetrack".
Judge Sean Murphy QC told him: "You have been convicted of very serious and grave charges.
"It is of particular concern that events in March took place while you were on bail.
"It is extremely serious that a second offence of dangerous driving was committed in these circumstances.
"Bail is continued, but be prepared that a custodial sentence is highly likely."
First offender Gribben will return to the dock later this month.
He was banned from the road in the meantime.
Family agony
Ms Price's husband Colin, from Troon in South Ayrshire, told BBC Scotland that both drivers were equally responsible for his wife's death.
He said: "It takes two people to race.
"The person whose car actually hit Joan's would not have been driving at that speed, in that manner, if he wasn't racing with someone."
Mr Price says the court case had not brought him much comfort.
He added: "Joan has gone. The verdict does not bring her back."
Chief Insp Craig Linton praised the dignity of the Price family.
He said: "This was a dreadful incident caused by the actions of two drivers who demonstrated a blatant and utter disregard for the safety of others on the road whilst travelling at high speeds and in competition with each other."
The officer also highlighted the fact Knox and Gribbin both fled the scene and made no attempt to help Ms Price or Ms Kay.
Chief Insp Linton added: "This has been a devastating experience for the family, friends and colleagues of Joan Price who was loved by many.
"It also stands out as a stark reminder of the consequences of driving dangerously and with a blatant disregard for other innocent, law-abiding people who use the same roads and the impact that this can have."