Tennis star sends boy message after class let-down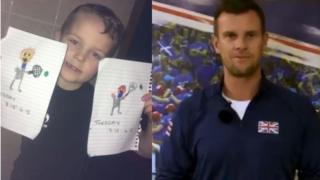 A budding Andy Murray - who was disappointed when his tennis class was cancelled - has been boosted with a big surprise.
Daetyn Mooney, 6, has been sent a video by British Davis Cup captain Leon Smith a week after his session was cancelled when he was the only one to turn up.
Daetyn's sister Paris tweeted pictures of posters her brother made to encourage his friends to join him.
The Lawn Tennis Association organised the video to reward his enthusiasm.
Paris' tweet about her little brother's efforts went viral very quickly.
The pictures showed Daetyn with the home-made posters he made for his friends. His mum wrote the date of the next session beside his drawings of children playing tennis.
It was even retweeted by "godmother of tennis" Judy Murray.
She offered to come to his class at Sacred Heart Primary School in Girvan the following week.
She tweeted: "Love this. Passion, vision, ambition, imagination, action. You got space for me, wee man? Il come and help you get started."
Ahead of Daetyn's next session, the Lawn Tennis Association (LTA) posted a video from Leon Smith on the British Tennis Twitter Feed and also in reply to Paris' original tweet.
The short message was recorded in Marbella where the BG Davis Cup team is preparing to take on Spain this week.
Leon Smith said: "Hey Daetyn, I've been following your stuff on Twitter about trying to get some lessons at school and how you have made posters to try to drum up some interest.
"This is brilliant, and it is people like you that we really want in tennis.
"So keep going, keep working hard and I look forward to meeting you at some point in the future."
Paris, 19, told the BBC Scotland News website she was stunned at the reaction.
"We can't believe we have had replies from Judy Murray who is one of the most influential people in tennis, and from Leon Smith who is another tennis superstar," she said.
"Daetyn is thrilled as well, he can't stop telling everyone how many likes he has.
"Although he had never really shown much of an interest in tennis before now we are so glad he found something he was passionate enough about to encourage his school mates into taking part too.
"He went along to the tennis club this week and plans to continue going as he had a great time.
"It's so wonderful to have so many people support him."