Student sent rape threats to girlfriend and her mother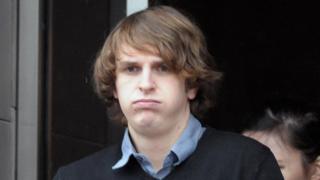 A student who bombarded an ex-partner and her mother with indecent messages and pictures, including threats to rape them, has been sentenced.
Christopher Lyons, 24, sent indecent images to his girlfriend's 48-year-old mother when she was on holiday.
A court heard that after the couple split Lyons sent messages on Facebook to the pair using different accounts.
He was given a community payback order which includes two years' supervision and 200 hours of unpaid work.
Sheriff Ian Fleming also told Lyons he must attend a sexual offenders course, put him on the sex offenders register and granted an indefinite non-harassment order preventing him contacting either woman.
Chilling messages
Glasgow Sheriff Court heard one message to the woman read: "You should be so afraid or very excited because you are going to be raped and videoed and I will do the same thing to that pretty young daughter of yours."
Lyons, from Maryhill, Glasgow, pled guilty to two charges under the Sexual Offences Scotland Act of sending sexual written communication without their consent between September and October 2015.
Passing sentence, Sheriff Fleming told him "Your behaviour was intrusive and threatening and escalated after you had been confronted and apologised.
"What concerns me, not only did your behaviour escalate it did so in a devious fashion by setting up false Facebook accounts - you were 22 not 16."
Holiday texts
The court previously heard Lyons was in a relationship with a 22-year-old at the time and had met her mother.
While his girlfriend was on holiday, Lyons sent an explicit text to her mum followed by an apology claiming it was for the wrong person.
The woman thought it was for her daughter but received more texts which included her name.
Procurator fiscal depute Harry Findlay said: "These were followed by a number of text messages from the accused apologising and asking her not to tell her daughter."
When the girl returned around a week later and heard about the messages she confronted Lyons.
He apologised but she told him their relationship was over.
The following day she found explicit messages on her mother's Facebook account from a person called Chris Kim.
She received a friend request from the account and challenged her ex-partner about it but he denied being the person behind it.
False accounts
The 22-year-old checked her spam folder on Facebook on 4 October and found more indecent messages from Chris Kim and Harold Cramel that had been sent in September.
Among the messages from Chris Kim was an indecent image of a man.
The girl immediately told her mother who checked her own spam account and found around 50 messages from the Harold Cramel as well as five photographs.
Lyons was identified in one of the images by a scar on his abdomen and was detained in January 2016.
The women contacted the police who traced the Facebook and phone activity back to him.