Drivers 'racing' before woman's crash death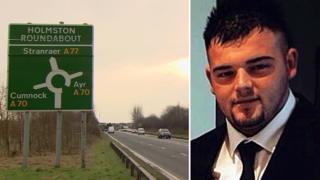 A banned driver has told a court how he killed a woman in a head-on crash after travelling at up to 140mph while racing against another driver.
Logan Knox, 20, from Coylton, is serving a sentence after he admitted causing Joan Price's death by driving dangerously on 30 January last year.
John Gribben, 19, is on trial, also accused of causing the 59-year-old's death by dangerous driving.
Knox described racing Mr Gribben along the A77 in Ayrshire.
He told the High Court in Glasgow that he saw Mr Gribben at Heathfield Industrial Estate that evening where he spoke to him before driving off.
He said he got to the Whitletts roundabout and Mr Gribben pulled up behind him. He recalled: "He was flashing his lights and waving at me."
Knox said they moved off and Mr Gribben was tailgating him.
Advocate depute Michael Meehan asked what he took that to mean and he replied: "Probably wanting a race." Asked how he reacted, Knox said: "Put my foot down."
Knox said: "He was behind me for a while, I overtook a lorry, he got stuck behind the lorry." He said it was "his decision to engage in a race".
The court heard that Knox overtook the lorry, in the face of oncoming traffic, and continued along the A77 towards the Holmston roundabout and tried to undertake a van.
He said: "The van had gone in to the left hand lane then over to the right, I went to undertake him.
"I don't know if I have been too close or he has tried to come back in to the left lane, I just remember clipping the back bumper of the van then losing control."
Jurors heard that Knox's car spun round the inside of the van and ended up in front of it, on the other side of the road where he crashed into and killed Mrs Price.
Knox fled the scene and said he "thought" he got in to Mr Gribben's car.
The following day he went to hospital, with a bag, expecting to be arrested by the police.
After pleading guilty, he gave a statement to police that he "doesn't normally drive like this".
He told them "I don't honestly believe I would have done so if it wasn't for John tailgating me as we came off the Whitletts roundabout."
'Hard on the brakes'
Knox accepted he was driving too fast on the national speed limit road and when asked to estimate his speed he said "probably about 140 at some point".
He said he was "hard on the brakes" before he hit the van and said he didn't know Mr Gribben had also overtaken the lorry.
During cross-examination by Mr Gribben's defence advocate Tony Lenehan, Knox said he was disqualified from driving at the point of the collision, having been already caught driving without having a licence.
The court heard that Knox pled guilty to the death by dangerous driving while engaged in a race with another.
He said he admitted that to get the plea deal, allowing him to get a discount from his sentence.
Mr Lenehan suggested Knox was "making it easier on himself". Knox said: "Probably didn't want to accept the blame at the time."
He asked: "If I'm right in understanding what you're telling us today, as far as you are concerned, John Gribben's Audi has nothing to do with anything, by the time you passed the lorry, is that right?"
Knox replied: "Maybe engaging in a race but the crash wasn't his fault."
Mr Gribben is also charged with causing injury to Mrs Price's passenger, Gillian Kay and attempting to pervert the course of justice by driving off from the scene with Knox to avoid detection.
He also faces another charge of dangerous driving on 31 March last year.
The trial continues.