Quarriers 'sorry' for removing headstones at children's home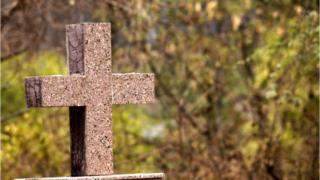 A charity has apologised "for any distress caused" over the removal of headstones from a cemetery at a former children's home.
It is thought about 80 headstones were removed from the cemetery at the Quarriers home in Renfrewshire sometime in the 1960s.
The charity said it had plans to have them reinstated.
The cemetery in Bridge of Weir and which dates from 1888, is currently marked by a commemorative plaque.
The decision to reinstate the headstones was taken after a campaign by a former resident named Sandy Smith.
'Initial investigations'
A spokesman for the charity said: "We were very happy to meet with Mr Smith today about this extremely sensitive issue.
"Having made our own initial investigations and listened to Mr Smith's views, we believe and agree that the headstones should be reinstated.
"We will work with Mr Smith and others to ensure this is done appropriately and sensitively."
The charity said it was trying establish if the original headstones still existed and to understand when and why they were removed.
The spokesman added: "All the children buried there are currently commemorated on a plaque in the cemetery and we have detailed plans and registers in remembrance of each and every individual child.
"We understand this is a sensitive issue and apologise for any distress this has caused to former residents or their families."