Glasgow man jailed after Crookston flat fight murder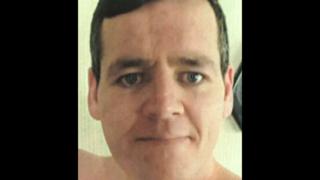 A man has been jailed for life for stabbing another man to death in a drink and drug-fuelled fight.
Father-of-one Kirk Cole, 36, was found dead in a flat in Cairnhill Drive in the Crookston area of Glasgow on 22 June 2017.
He had been involved in a fight with 27-year-old Ryan Currie.
A court heard Currie stabbed Mr Cole multiple times and then put a knife in his hands to make it look like he was armed.
At the High Court in Glasgow Lord Beckett sentenced Ryan Currie to life imprisonment, serving at least 16 years behind bars.
The judge, Lord Beckett, said: "Perhaps both you and Mr Cole were both in the wrong place at the wrong time but the fact is, that in a state of drink and drug fuelled intoxication, you used a knife to fatal effect.
"A family has been deprived of a much loved brother, uncle and son and his daughter will have no chance now of forming a relationship with her father."