The 'life-changing' charity raising the game of young people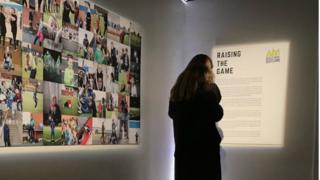 A project giving young people from socially deprived backgrounds access to sports is "life-changing", according to photographer Elaine Livingstone.
She has been taking taking pictures of the young people taking part in the activities made possible by Achieve More Scotland.
It provides football, dance and gymnastic sessions for free to young people who would not otherwise have the opportunity.
The charity also gives volunteering opportunities and a route into work for young people, aiming to reduce anti-social behaviour.
Crime rates in Glasgow are the highest in Scotland per 10,000 population.
Most staff started as volunteers or participants and now have full-time jobs at the charity.
Ms Livingstone has an exhibition of her photographs called "Raising the Game".
She said: "It's not simply about the football and the activities they provide across the city for young people.
"They're finding them jobs, finding them placements that lead to careers, helping them into further education, they are finding them a future.
"This is really, quite literally, life-changing."
Football sessions are provided Monday to Thursday as drop-in sessions that often have 40 or 50 participants.
Then all the groups come together on a Friday, playing 11-a-side matches with free transport provided.
Kits are given to all of the players as well as boots or shin guards for those who do not have them.
Paul Fletcher, deputy chief executive of Achieve More Scotland, said: "We eradicate every barrier toward participation so regardless of your economic background, if you can speak the language or not, what community you live in, you can take part in sport.
"These sports should be free and openly accessible, there should not be a cost attached to it and that's the biggest thing."
Mr Fletcher said that the charity had opened doors for young people giving them a chance of working, staying fit, improving their self-esteem and getting opportunities they would not get at home or in school.
He talks about giving one group of young footballers the chance to train at a Manchester United academy and get their skills tested in a challenge only ever completed by Cristiano Ronaldo, when he was at the club.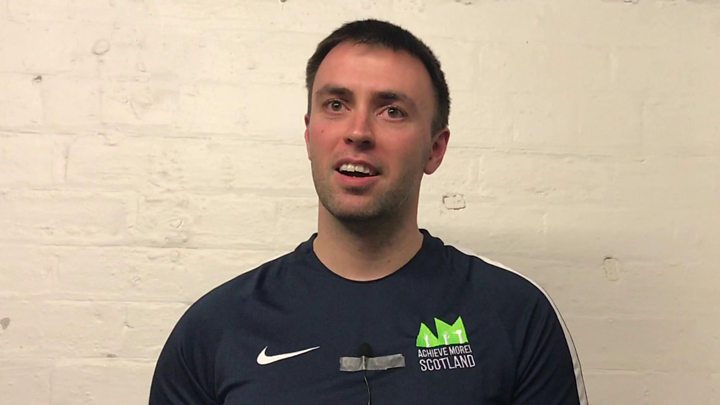 One young player, Jack Morran who was 16 at the time, completed the test, bettering almost every first-team player since the 1990s.
As a reward he showed his skills to 75,000 people at Old Trafford and was given hospitality at the stadium for a Premier League game.
The dance classes run differently, with sessions being used to learn routines for a yearly show, hosted at the Hilton.
The gymnastics sessions started as a pilot last year but there are already half a dozen sites.
Mr Fletcher believes there is a need to provide free sports activities so young people can stay active without the financial pressures.
He said: "In this day and age there are far too many families and young people that are being priced out of being able to participate in local community-based activities to help them get healthy, off the streets, involved in something positive."
The exhibition - Raising the Game - runs until Sunday at 25 King Street in the Merchant City.