Chief Constable Phil Gormley facing seventh complaint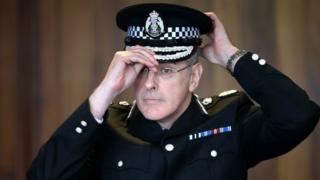 Police Scotland Chief Constable Phil Gormley is facing a seventh complaint.
It is understood it was made to the Scottish Police Authority (SPA) by the Scottish Police Federation (SPF), which represents rank-and-file officers.
The Police Investigations and Review Commissioner (Pirc) is currently investing four complaints while three are now being assessed internally.
Mr Gormley, who has been on leave since September, has denied any wrongdoing.
The SPA, which is expected to provide an update on Mr Gormley's special leave on Thursday, declined to comment on disciplinary matters.
Last week it emerged a sixth complaint had been made about Mr Gormley's conduct.
'Unlawful' intervention
Mr Gormley's wife, herself a former senior police officer, also hit the headlines after she condemned the handling of his case.
Claire Gormley's comments came after Justice Secretary Michael Matheson criticised the Scottish Police Authority over its attempt to bring the chief constable back to work.
Since then it has emerged no minutes were taken during the meeting in November between Mr Matheson and Andrew Flanagan, the then head of the SPA
Mr Matheson addressed MSPs after Mr Gormley's lawyers accused him of making an "unlawful" intervention to stop him coming back to work.
On Tuesday new SPA chairwoman Susan Deacon backed the justice secretary in the ongoing row over Mr Gormley's future.