Police chief's special leave extended for four weeks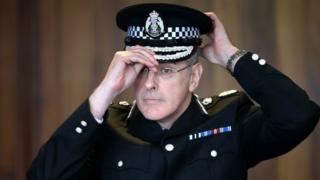 Police Scotland Chief Constable Phil Gormley's special leave has been extended for a month.
The Scottish Police Authority (SPA) confirmed the move two days after it emerged a seventh complaint has been made about Mr Gormley.
The Police Investigations and Review Commissioner (Pirc) is currently investigating four complaints while three are being assessed internally.
Mr Gormley, who has been on leave since September, has denied any wrongdoing.
Last week his wife, a former senior police officer, condemned the handling of his case.
Her comments came after Justice Secretary Michael Matheson criticised the Scottish Police Authority over its decision to allow the chief constable to return to work, which was later reversed.
'Bad decision'
Mr Gormley's lawyers have accused Mr Matheson of making an "unlawful" intervention to block the chief constable's return.
But earlier this week, new SPA chairwoman Susan Deacon backed the justice secretary in the ongoing row.
In the latest twist on Thursday, former SPA chairman Andrew Flanagan said he felt he was left with "no choice" but to reverse the board's decision after being told by Mr Matheson that it was a "bad decision".
Mr Gormley's legal team has hit out at the "unnecessarily protracted process" and criticised the fact that the chief constable has yet to be interviewed, seven months after he volunteered to step aside to allow the Pirc to secure evidence.
A statement concluded: "The chief constable's professional reputation, career and welfare have been eclipsed by a public battle of wills between the SPA and the Scottish government.
"It demonstrates that the present system for investigating complaints against the chief constable is unworkable and requires a fundamental review.
"It is hard to see how any fair process can now follow given such public disagreement."