Priest, 62, assaulted and robbed by scruffy man in chapel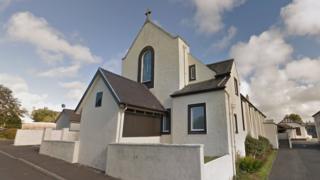 A priest was assaulted and robbed by a man after he let him in to the chapel house.
Police Scotland said the 62-year-old was targeted at St Winin's Church, in St Winnings Lane, Kilwinning, North Ayrshire at about 16:30 on Tuesday.
The suspect threatened the priest after they went into the chapel, and demanded money before a scuffle broke out.
During the struggle the man grabbed the cleric's collar and pushed him before running off with a set of keys.
Officers believe the same man may have also have caused a disturbance near the town's Pennyburn Supermarket, a short time before the robbery.
'Hanging about'
Det Insp Mick Carr said: "I am appealing to anyone who was in either of these areas at the time of the incidents to think back and consider if they noticed anything suspicious or unusual.
"Did you see anyone hanging about outside the church?
"If there is any information which you think could assist us in our inquiries and lead to us tracing the person responsible then please do pass it on."
Police later recovered the keys and the priest did not require medical attention.
The suspect is described as white, between 25 and 30, of medium build and height.
He has brown hair, a scruffy appearance and was wearing a blue tracksuit top and dark coloured trousers.