Citizens Theatre refurbishment secures a further £1.5m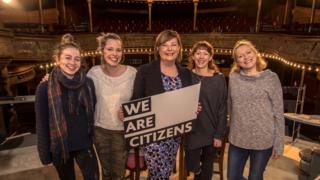 Glasgow's Citizens Theatre has been awarded £1.5m towards its refurbishment programme by the Scottish government.
Major works will improve accessibility, protect the building's Victorian features and create a new studio, rehearsal space and cafe bar.
Redevelopment of the 140-year-old institution will be completed in 2020.
Culture Secretary Fiona Hyslop announced the Scottish government funding on Wednesday - bringing its total investment to £4m.
She said: "The Citizens Theatre is of significant architectural importance, and has been a much-loved venue in the south of Glasgow for more than 100 years.
"It is also one of Scotland's flagship producing theatres, with an international reputation for inspirational and unique live performances.
"The refurbishment will help to protect the building for future generations, as well as increasing accessibility."
The total cost of the redevelopment project is £19.4m with the remainder of funding coming from Glasgow City Council, the Heritage Lottery Fund, the Robertson Trust, and other trusts and individuals.
Dominic Hill, the artistic director of the Citizens Theatre, said: "This funding, for our Victorian home in the Gorbals, is vital to our success.
"It will help to ensure that we can continue to enhance and transform lives through performance and participation that everyone can access for decades to come."
The Category B-listed building opened as His Majesty's Theatre in 1878.
It was also known as the Royal Princesses Theatre until the building was first leased to James Bridie's Citizens Theatre Company in 1945.
Retaining many of its Victorian architectural features, it is the only theatre in Scotland still to have its original machinery under the stage, and features an original Victorian paint frame and fly-system, which is still used today to paint backcloths.