Ex-Rangers administrator claims he was 'failed' by police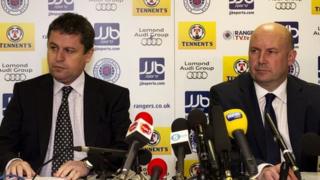 A former Rangers administrator who is suing Scotland's chief constable is bidding to have a court rule in his favour without evidence being heard.
David Whitehouse has raised a £9m action against Police Scotland's Phil Gormley and the Lord Advocate.
Mr Whitehouse was arrested in November 2014 but the charges against him were later dropped.
Mr Gormley and James Wolffe QC claim police and prosecutors acted in line with correct legal procedure.
But Mr Whitehouse alleges he was wrongfully detained by detectives investigating Craig Whyte's 2011 takeover of the Ibrox club.
And he claims damage was inflicted on his professional reputation.
'Civil wrong'
His lawyers are now seeking summary decree in the action against the chief constable at the Court of Session in Edinburgh maintaining there are no relevant defences set out.
Heriot Currie QC, for Mr Whitehouse, told the court: "In my submission, at all stages the police case fails."
He told judge Lord Malcolm: "If you deprive someone of his liberty unlawfully, that is a civil wrong.
Mr Currie argued that detaining officers did not have reasonable grounds for suspecting that Mr Whitehouse had committed an offence.
He said it was clear on legal authority that if the statutory conditions were not satisfied then a subsequent arrest was unlawful.
Liquidation
The chief constable is defending the action and his counsel, Maria Maguire QC, said it would be argued that there was a requirement to establish that officers acted maliciously.
Mr Whitehouse, from Cheshire, and his colleague Paul Clark were appointed joint administrators of Rangers in 2012 following the sale of the club to Craig Whyte by Sir David Murray.
The pair were later arrested but charges against them were either dropped or thrown out.
Mr Whyte later stood trial but was acquitted at the High Court in Glasgow.
The company running the club could not be brought out of administration and its assets were subsequently sold to a consortium led by Charles Green.
In the action brought by Mr Whitehouse, it is said that officers from Police Scotland attended at the premises of his employers Duff & Phelps in August 2013 with search warrants and seized a large quantity of material, some of which was privileged and was beyond the scope of the warrant.
'Detention unnecessary'
Mr Whitehouse was detained in November 2014 and taken to a Glasgow police station and held in custody until he appeared at the city's sheriff court three days later.
It is said on his behalf: "Throughout the period of detention there were at no point any reasonable grounds to suspect the pursuer had committed an offence.
"The detention was in any event unnecessary. There was insufficient evidence to justify a charge."
It is maintained that there was no basis for any suspicion that he had engaged in criminal activity.
Mr Whitehouse was detained at his home on a further occasion.
It is alleged that the detention and subsequent prosecution of Mr Whitehouse was an interference with his human rights and that he suffered "significant reputational loss" and his finances were damaged.
And as a result of suffering loss, injury and damage, he is entitled to damages.
The chief constable disputes the claimant's rights were infringed and maintains he is under no obligation to make reparation to Mr Whitehouse.
The hearing continues.