Scotland footballer Robert Snodgrass cleared over baby in car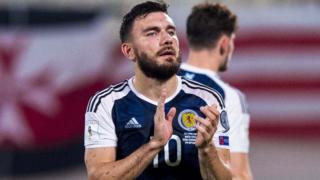 Scotland international Robert Snodgrass has been cleared of illegally driving his car in Glasgow while a baby was being held by a passenger.
The Aston Villa player, on loan from West Ham, was charged with driving on Duke Street in April 2015 with too many people in the car to fit a baby seat.
The 30-year-old went on trial at the city's Justice of the Peace Court.
After evidence from police officers, his defence lawyer successfully argued there was no case to answer.
It had been alleged that the manner which passengers were carried in the car "involved a danger of injury".
Justice of the Peace Morag Wilson upheld the no case to answer on the basis that there being a danger of injury, other than in a collision, was not corroborated.
Defence lawyer Martin Black said: "The gravamen of the charge, the essence of it is there being a danger of injury.
"It has to be a material danger.
"What we have here the court can see the distance that was travelled was extremely limited, it's a distance that was being travelled at a modest speed."
There was no evidence that the manner of driving or speed was of any concern.