Glasgow bin lorry family's £800k compensation deal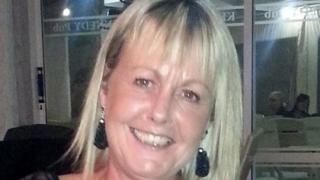 The family of bin lorry crash victim Gillian Ewing have agreed an £800,000 compensation deal with Glasgow City Council.
The deal follows a legal fight by Ms Ewing's daughter after her mother and five others were killed by an out-of-control truck driven by Harry Clarke.
A fatal accident inquiry found Clarke lost consciousness at the wheel before the crash in December 2014.
The compensation case was settled out of court last month.
The payout to Ms Ewing's daughter Robyn, 28, and six other relatives is the first by the local authority to the victims' families.
A spokesman for the Ewings' lawyers, Digby Brown, said: "We can confirm we have now settled all our civil claims associated with the family of Gillian, who they described as a much loved mother, daughter, sister and partner.
"This has been a life-changing and traumatic three years for the family.
"Now at least they can hopefully start looking to the future and rebuilding their lives."
Those who died in the city centre crash were Jacqueline Morton, 51, Stephenie Tait, 29, both from Glasgow, Erin McQuade, 18, her grandparents Jack Sweeney, 68, and his 69-year-old wife Lorraine, from Dumbarton, and Gillian Ewing, 52, from Edinburgh.
Their families were told in December 2016 that they could not launch private prosecutions against the driver.
Clarke, 60, had his driving licence revoked but was caught behind the wheel nine months after the fatal crash.
He later admitted culpable and reckless driving and in March last year he was banned from driving for three years, ordered to carry out 150 hours of unpaid work and electronically tagged for four months.