Human trafficking trial: Teenager 'sold' by man he worked for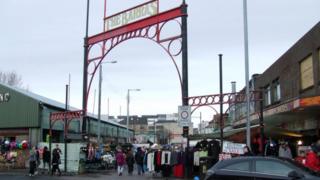 A 41-year-old man has told a human trafficking trial how he was "sold" as a teenager by a man he worked for.
James Keith said he lived in caravans and a truck with no toilet facilities while working for Robert McPhee.
He told the High Court in Glasgow he fled but was found and beaten before being sold to Mr McPhee's son James.
Mr McPhee and three other men deny a total of 30 charges including violence, intimidation, abduction and detaining victims against their will.
Mr Keith said he was 16 when he worked for Mr McPhee, mono-blocking and tarring driveways around Glasgow and West Lothian.
The court heard that after he was sold to James McPhee, he was told he could leave if he paid "several grand".
The witness recalled: "You had no option but to go back. You did not get an option."
Mr Keith was a homeless teenager in the 1990s before being taken off the streets and offered work by a man nicknamed Tank Commander.
'Slept in truck'
He said he stayed with Robert McPhee and his family at a number of traveller sites across Scotland but ended up feeling "owned".
The witness recalled being 16 when he was first approached by a man and asked if he was looking for work.
The meeting took place outside a pub at Glasgow's Barras Market.
Mr Keith ended up being taken to a travellers site close to the nearby Gallowgate. It was there he met Robert McPhee, who he got to know as Bobby.
Prosecutor Kath Harper asked: "Did he have a nickname?" Mr Keith: "Yes, Tank Commander."
The witness stayed in a caravan that had no water or toilet meaning he had to use the facilities at a local cafe.
He started working for Mr McPhee before moving to different sites in Glasgow, including in the Hillington and Maryhill areas.
At one stage, Mr Keith had to sleep in the front of a truck.
They also moved to Larkhall, South Lanarkshire, and Bathgate in West Lothian.
Ms Harper asked: "What was a typical day working for Bobby McPhee?" He replied: "Slabbing and tarring...you worked until the job was finished."
Mr Keith said he was "just paid whenever" as "that was the way it was".
He went on to claim that Mr McPhee would be violent if Mr Keith did not generate more work while out delivering leaflets.
He said: "Sometimes he was alright, other times he was horrible...shouting or hitting you."
'Made-up fantasy'
The court heard Mr Keith first tried to leave while staying at the site in Maryhill. He went to a hostel, but told jurors he was "captured".
Mr Keith recalled: "Bobby had come in looking for me. I went into a van because I had no option - that was just the way it was."
Mr Keith said he got "battered" when they returned to the site.
The trial heard the witness later ended up working for James McPhee. It was alleged he told Mr Keith that he had "bought" him from his dad.
Ms Harper asked: "Looking back, what do you make of that?" Mr Keith said: "You can't do anything because you are apparently owned.
"I told a few people, but they did not believe me. They thought it was a made-up fantasy."
He added that he considered going to the police, but had been "frightened".
Mr Keith told the court that on an occasion in Bathgate he was stripped and locked in a shed by James McPhee after being out drinking.
He also alleged James McPhee attacked him with what he called a "pick ice" during another argument.
The witness claimed McPhee "just started swinging" it and it cut his wrist when he put his hands up.
Ms Harper asked: "How deep was the cut?"
He replied: "I would say about an inch and a half, just missed a vein."
Robert McPhee, 65, James McPhee, 45, and Steven McPhee, 47, along with 38-year-old John Miller, deny a total of 30 charges including slavery and human trafficking.
The allegations span from 1992 to 2016.
The trial before Lady Stacey continues.