Homeless man guarded car with money inside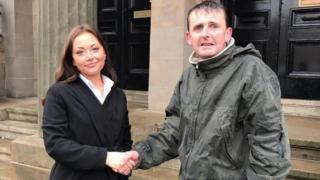 A homeless man stood guard by a car in freezing rain for hours to make sure a handbag and money he had spotted inside was not stolen.
James McGeown noticed that John McMonagle had left the window down and saw the bag and £50 on display.
After waiting two-and-a-half hours, he took the bag out to check for ID and found it contained £450. He then took it to a nearby solicitor's office.
A campaign raising funds for James has been pledged more than £8,000.
Mr McMonagle, who owns McMonagles Boat fish and chip restaurant in Clydebank, said he was "astounded" by James' kind act.
"This is a genuine, sincere, 100% nice guy," he told the BBC Scotland news website. "He's got nothing, not even a bed for the night, and he handed that money in.
"He could have used it to buy a big jacket, warm clothes or footwear. It's astounding.
"It's as pure an act as you can possibly get."
Mr McMonagle had been attending Glasgow Sheriff Court as a witness with his colleague Alyshia Orford when she left her bag in the car. He had also left £50 in view.
"When I walked towards the car I could see police there with James and they explained what had happened," he said.
"When James couldn't find any ID in the bag he had taken it, along with the £50, into the solicitors office and told them what had happened.
"He may not have realised it, but he actually committed a crime by taking stuff out of the car, although he took it straight to the solicitors office. But he put himself at risk.
"Alyshia gave him a big hug. He was an absolute gentleman, polite and nice. He's just had bad luck in his life."
Mr McMonagle added that when James later saw a football scarf in the boot, he joked that "if he had known the team I supported he would have kept the money".
After posting the details of James' generous act on Facebook, Mr McMonagle has been flooded with offers of help, including offers of accommodation, training and work.
"I offered him a job myself but he's alcohol dependent," Mr McMonagle said. "You can't just click your fingers and it will all be OK. He needs professional help which has also been offered."
The fundraising page set up by Mr McMonagle has an initial target of £5,000 which will go towards helping James.
Any more money raised will go towards helping homeless people in Glasgow and Clydebank.