Ex soldier says Foreign Office 'betrayed' Chennai Six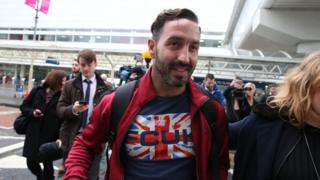 A former paratrooper who spent four years in an Indian prison claims he was "betrayed" by the UK government.
Billy Irving and five other men were imprisoned in 2013 on charges of smuggling weapons and ammunition.
Their convictions were overturned last week and Mr Irving was the first of the "Chennai Six" to return home to the UK.
A spokeswoman for the Foreign and Commonwealth Office said it had worked "tirelessly behind the scenes" to reunite the men with their families.
However, in an interview with the Scottish Mail on Sunday, Mr Irving, from Paisley, criticises the efforts of the FCO.
"I can never forgive the UK government and the Foreign and Commonwealth Office," he told the newspaper.
"We would have been freed much sooner if they had really engaged in our plight and fought for us. I feel disgusted and betrayed."
The 37-year-old is former corporal with the Parachute Regiment who served in Afghanistan and Iraq.
He was one of a group of veterans working for an US maritime security firm on a ship in the Indian Ocean when they were picked up by the Indian coastguard.
During their time in prison, he said he had to eat rotten food and endure "rancid" conditions.
He said his relief at being home was tempered with sorrow at missing out on the first few years of his son's life.
His fiancee, Yvonne MacHugh, led a high profile campaign to have Mr Irving and his former colleagues released from the "hell hole" prison.
She told the paper that former foreign secretary Philip Hammond was "useless and uninterested" and she also criticised his successor, Boris Johnson.
"For Boris Johnson to hint that he had some part in their return is the height of hypocrisy," she said.
"I've written to him a number of times asking for a meeting and never had a reply. How dare he?"
Ms MacHugh said the prisoners would have been released two years ago if the FCO had done their jobs properly.
"I will never forgive the FCO," she added. "At times, their lack of interest just made everything worse.
"They put business ventures before lives. They complicated situations and moved goal posts. They would offer to help, then they didn't follow up. They've never said, 'Sorry, we messed up'."
In response, the FCO said that since the men's arrest in October 2013, the case has been raised more than 50 times at ministerial level and nine times with the Indian prime minister.
Mark Field, the minister for Asia, visited the men in prison on 12 October 2017 and he met families and campaigners in London.
A spokesman for the FCO said: "The UK government was delighted that the men were released and the Foreign Secretary also paid tribute to those who campaigned for them.
"The Foreign Office worked tirelessly behind the scenes to reunite these men with their families.
"This included lobbying on their behalf, visiting them in prison, updating their families, and maintaining close contact with their legal team."
Who are the Chennai Six?
Nick Dunn from Ashington, Northumberland
Paul Towers from Pocklington, East Yorkshire
Ray Tindall from Chester
Nicholas Simpson from Catterick, North Yorkshire
John Armstrong from Wigton, Cumbria
Billy Irving from Connel, Argyll