Driver clocked at 101 mph on Rest and Be Thankful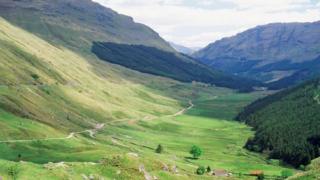 A driver has been clocked travelling at 101 mph on one of Scotland's most scenic roads.
Police Scotland dubbed the motorist "rocket man" after stopping him on the A83 Rest and Be Thankful, Argyll and Bute about 21:05 on Friday.
The road policing division condemned his actions on Twitter.
It posted: "101MPH. Ridiculous. One male reported to the PF on the #A83, Rest & Be Thankful. The road isn't your personal racetrack."
The tweet featured the hashtags #CanWeSeeYourPilotsLicencePlease, #RocketMan and #ThankfulNoOneWasInjuredOrWorse.
The 21 year-old man was stopped after officers spotted his car on a long, straight section of the road, near the junction with the A815 Dunoon.
A force spokeswoman confirmed he will be the subject of a report to the procurator fiscal in connection with an alleged road traffic offence.