Memorial marks 80 years since Castlecary train disaster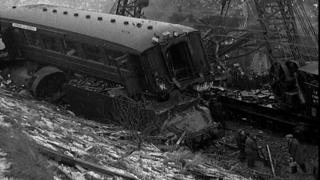 One of Britain's worst train crashes is to be remembered in a memorial service.
The Castlecary rail disaster cost 35 people their lives in a freezing snowstorm on a December Friday night in 1937.
Another 179 were hurt in the tragedy when an Edinburgh to Glasgow express ploughed into a stationary train just west of Castlecary village.
An inquiry found a signalling error led the driver of the express to believe the line was clear.
The crash happened in the evening of 10 December 1937 as the express from Edinburgh Waverley was travelling at high speed in a blizzard.
Both the express and the other train, from Dundee, were bound for Glasgow's Queen Street Station.
The Dundee train was running late and had stopped at signals outside Castlecary Station when the express train rammed into the stationary carriages.
An investigation after the incident found a signaller error was to blame, with driver error and challenging weather conditions contributing factors.
For years the disaster was remembered by the local people in Castlecary with a makeshift memorial by the side of the railway.
But, keen to create a fitting tribute to those who died and those who helped in the aftermath of the terrible tragedy, Castlecary Community Council created a permanent memorial in 2007, made from railway sleepers, pieces of track and a wheel from a piece of rolling stock.
It is at this memorial that the victims of the disaster will be remembered on Sunday evening.
Secretary of the community council Albert McBeath said the memory of the tragedy endured despite the passage of time.
"I knew a lot of people who remembered and had seen the aftermath," she said.
"It must have been horrendous, in one of our worst winters, the temperature was -20C.
"I moved to the village 30 years ago and have always heard people talking about it.
"Even now, they have grandparents who remember what happened after the crash."
Falkirk councillor Billy Buchanan will be joined for a short service by the Provost of North Lanarkshire to remember those who lost their lives.
They will also pay tribute to a later crash in 1968 which saw the loss of two men.