'Giant cage' plan for Helensburgh's Mackintosh Hill House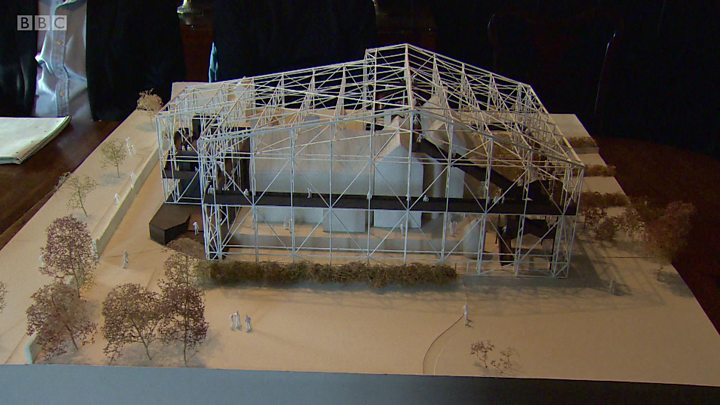 A crumbling Scottish landmark is to be rescued with a cutting-edge solution.
The Hill House in Helensburgh was built as "a home for the future" by Charles Rennie Mackintosh in 1902.
But the experimental building material used has allowed water to soak into the building.
Now, the National Trust for Scotland will surround the house with a protective "shield" in the form of a "giant cage" while it comes up with ways to restore it.
The trust plans to build the huge see-through structure, designed by architects Carmody Groarke, over the top of the landmark to protect the building from the elements.
This will give skilled conservation teams the time needed to find long-term solutions that will secure the building's structural integrity.
The Hill House was built as a domestic dwelling for publisher Walter Blackie and completed in 1904.
Mackintosh was determined to give his client a "home for the future", dispensing with fussy Victorian and Edwardian-style external detailing in favour of a shockingly plain exterior.
To achieve this Mackintosh made use of a new material - Portland cement - to form a smooth layer of render.
But the once-experimental finish has allowed extensive moisture ingress from the day it was first applied.
'Dissolving like an aspirin'
Decades of driving west coast wind and rain have saturated the walls and threaten the building's long-term survival, including the bespoke interior finishes and designs Mackintosh and his wife, Margaret MacDonald, created for his client.
The trust, which owns the building, is now taking action to ensure one of Scotland's most important buildings will remain a beacon of one of its greatest sons' design genius.
Simon Skinner, National Trust for Scotland's chief executive, said: "As our President, Neil Oliver, put it, the Hill House is in danger of 'dissolving like an aspirin in a glass of water'.
"We are building what amounts to a shield around and above the Hill House to keep wind and rain out and give the building a chance to dry.
"The structure is effectively a porous cage, albeit a beautifully designed one, that still allows some movement of air and a degree of moisture penetration - this is essential to ensure the walls do not dry out too quickly and crumble as a result."
The trust also revealed the enclosure, which could be in place for a number of years, will do more than act as a refuge from the weather.
While conservation teams restore the building, visitors will be able to climb stairs and gangways for a bird's eye view of Mackintosh's masterpiece and to get "up close and personal to the genius of his design".