Airport appeal reunites toy dog with owner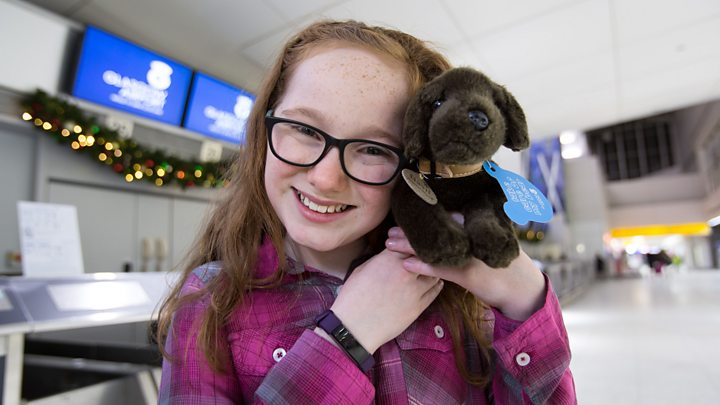 A girl has been reunited with the cuddly toy she lost at an airport after images were shared around the world.
Eve Mcilquham, 10, was distraught when she left Basil, a toy Labrador, at Glasgow Airport in July as the family travelled to visit her uncle in Canada.
Now the pair have been reunited after his "mugshot" was shown online.
Basil was one of 21 lost toys featured in a video and picture gallery released by Glasgow Airport in September.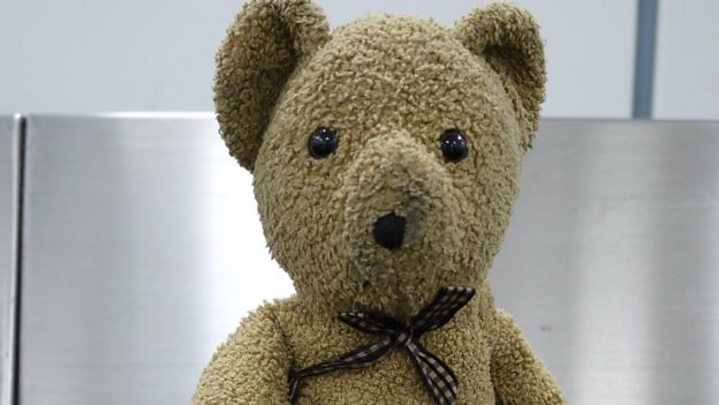 The video, which features the toys on a luggage carousel, has been seen as far afield as Japan, Germany, Singapore, Jamaica, Australia and Russia.
Eve's mother Lorraine Carlton recognised Basil in a video shared on Facebook
"About the fourth teddy in, I recognised that one straight away," she told the BBC's The One Show.
Eve, from Hamilton, South Lanarkshire, recalled the mix-up that led to Basil being left behind in the departure lounge.
"I thought he was in my bag - or my mum had picked him up. So we went on the flight and he wasn't in my bag.
"I was crying my heart out on the plane. I just thought 'Oh no, I've not got Basil any more'.
"I didn't think I would get him back. I was so excited happy, overwhelmed. He means so much to me. He's the world to me."
'Take care of my bear'
In September, Glasgow Airport introduced "Take Care of my Bear" tags to be given out to any child travelling from the airport with a soft toy, to make it easier to reunite them if they are separated.
The tags are available at check-in and can be marked with the owner's details.
A spokesman for Glasgow Airport said: "I'm delighted that Eve and Basil have been reunited and that they can spend Christmas together.
"If you and your furry friend are travelling through the airport this festive season, don't forget to pick up your teddy tag at one of our check-in desks."
If a family has lost a cuddly toy or anything else at Glasgow Airport, they are advised to contact Luggage Point based in the main terminal.