Paisley's high street museum store unveils its treasures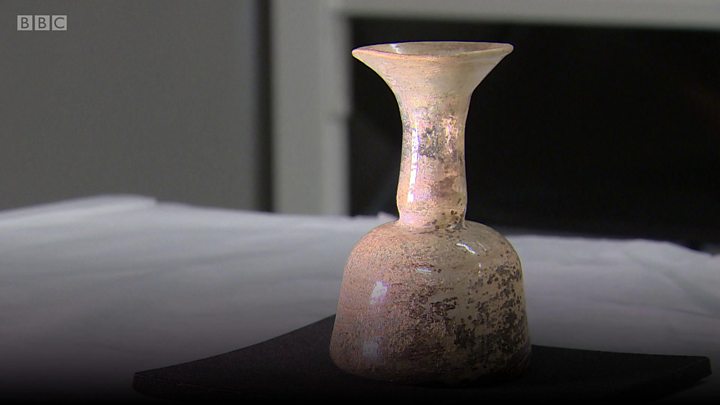 Scotland's first high street museum store has unveiled its treasure trove as it prepares to open its doors.
Tens of thousands of items from Paisley museum collections will be housed in the new £3.7m facility beneath Paisley town centre.
Bookings are now being taken for tours of No 9 High Street starting in January.
Paisley amassed its collection in its industrial heyday - with many items gifted by wealthy textile families.
The collection includes some of Paisley's world-famous textiles as well as a mix of ceramics, world cultures, social history, art and sculpture, natural history and local archives.
Many of the items have been unseen by the general public for decades.
From a neolithic axe to a 1960s badge worn by a Paisley tram driver, the new store will house a wide variety of artefacts while they are not on display at the main museum.
Paisley: The Secret Collection is housed in a purpose-built publicly-accessible storage unit in a former retail property.
While many museums have stores which are open to the public, this is believed to be the first on a Scottish high street.
Members of the public will be able to view objects and hear how the museum acquired them.
The facility will be even more vital during a £42m revamp of Paisley Museum, which is due for completion in 2022.
A dedicated decant team is due to complete the first phase of a major project to populate the store by the end of the year.
Sean Kelly, collections management officer, said: "It's good that these are collections that have not been in the public eye for a long time.
"And not just in Paisley, but in Renfrewshire, Scotland, throughout the UK, there will be a lot more access to collections that we didn't know that we had."
He added: "There's probably going to be around four tours a week.
"People will be able to come in and request specific collections, attend different tours held by curators and the collection staff - that can range from textiles and costume to artworks and world cultures.
"It will be open to the public and fully accessible."
The facility will be used by researchers, school groups and members of the public.
The new store has been taken forward by Renfrewshire Council in connection with Paisley's bid to be UK City of Culture in 2021.
Paisley will find out in early December whether it will be crowned the first Scottish place - and first ever town - to win the prestigious title, awarded every four years by the UK government's Department for Culture, Media and Sport.