'Extreme action' vowed if Scot held in India has been tortured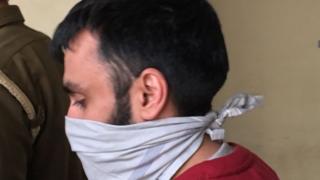 Extreme action will be taken if claims that a Scottish Sikh arrested in India has been tortured by police are true, a Foreign Office minister has said.
Rory Stewart was questioned in the Commons about the case of Jagtar Singh Johal from Dumbarton in West Dunbartonshire.
He was detained in Jalandhar in the state of Punjab on 4 November.
His lawyer claims he has been subjected to "physical torture", including being given electric shocks.
Mr Johal has not been formally charged with any crime.
His family say he was in India on holiday having married there in October.
Indian police have accused Mr Johal of financing the purchase of weapons used to kill Hindu leaders.
He appeared in court last Friday and was initially moved out of police custody into judicial custody, however he was later transferred back to police custody.
His lawyer said he was now accused of involvement in the death of a priest in Ludhiana in July 2015.
During Foreign Office questions in the Commons, Mr Johal's local MP, the SNP's Martin Docherty-Hughes, raised the case, and asked what discussions Foreign Secretary Boris Johnson had had with the Indian government about their human rights record in Punjab.
Answering his question, Minister of State at the Department for International Development Mr Stewart said Mr Johal's case was being taken very seriously.
He told MPs: "The Deputy High Commission managed to gain access - we have now had a meeting with the constituent.
"We take any allegation of torture very seriously, as indeed would the Indian government. It is completely unconstitutional - it is offensive to the British government - and we will work very closely to investigate and of course will take extreme action if a British citizen is being tortured."
On Monday, the Prime Minister said the government was "concerned" about Mr Johal's case.
Speaking to the BBC Asian Network, Theresa May said: "Representatives from the Foreign Office have met with Jagtar Singh Johal and obviously are pursuing the case and watching what is happening with concern and will take action (deemed) necessary."
Mr Johal is due back in court on Thursday.
Last week, about 400 British Sikhs demonstrated outside the Foreign Office in London demanding more be done to help him.