Scots teen in bid for 'life-changing' bionic legs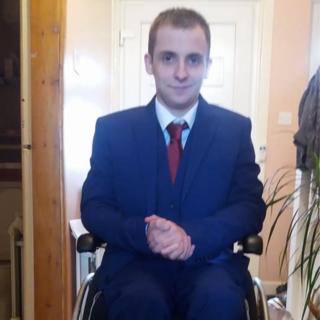 When Mark Sweeney was left paralysed from the waist down by an operation on his spinal cord, he and his family were left devastated.
Becoming a wheelchair user aged just 11, he was left angry and resentful, unable to ride his bike and play with his friends.
But now aged 18, the teenager is hoping to get back on his feet for the first time in seven years with the help of a "bionic suit".
And the aspiring actor hopes the life-changing kit could even help him land his dream role in the BBC's River City.
The technology is known as a ReWalk exoskeleton suit and it enables people with certain conditions to walk independently using "robotic legs".
With the help of his family, Mr Sweeney, from Motherwell, is trying to raise the £80,000 needed to buy the hi-tech suit.
He told BBC Radio Scotland's Kaye Adams programme of his reaction when he successfully tested the technology.
"The feeling is indescribable," he said. "I was incapable of crying, I burst out laughing instead."
Mr Sweeney was born with a series of spine and brain conditions, including Spina Bifida, and he spent much of his childhood in hospital, undergoing dozens of operations.
He was able to walk but his spinal cord became progressively weaker and after surgery on a cyst, he was left paralysed.
"I woke up in a blind panic because I couldn't feel anything, I couldn't move," he recalled. "I immediately started questioning my mum, saying 'what the hell has happened to me?'"
He said it led to him becoming more isolated. "The life I was leading, I was forced to stop," he said. "I was doing everything a kid of that age would do, going out on my bike, playing with my friends, but I couldn't do any of that."
His mother, Margaret Sweeney, said her son was left "very, very angry and resentful" by his sudden paralysis and it had a dramatic effect on family life.
"Every single day in life the whole family is affected," she said.
When she discovered an advert for the exoskeleton ReWalk suit online, she worked tirelessly to set up a "test-drive" for her son.
Acting career
Before he tried the device, he was warned that it could take three weeks of training before he would be able to walk successfully.
"On the first day, within three minutes of putting Mark in the suit, he got up and walked away," said his mother.
Mr Sweeney, who is studying administration and IT at college, believes the suit could give him the independence he craves.
"Most people take their mobility for granted but once you lose it, you realise what it was you were able to do which you now can't," he said.
"It would make a lot of difference, it would make my life so much easier," he added. "Even towards my possible acting career, it would open up so many gateways because I would be able to do more stuff.
"It would make my life so much more independent. I would be able to go places by myself without tiring out from pushing my chair or relying on someone else to push me."
Spencer Watts uses an exoskeleton suit after securing funding from the Matt Hampson Foundation earlier this year. He is paralysed from the waist down after a motorbike accident as a teenager.
He told BBC Scotland it had transformed his life. "I've got two young children and just walking along to the park with them, looking down at them and them looking up at me is just awesome."