Consular staff meet Scottish activist held in India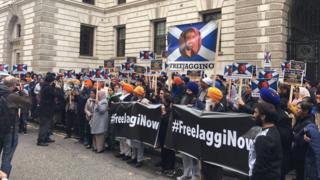 A Scottish Sikh man being detained in India has met British consular staff, the Foreign Office has confirmed.
Jagtar Singh Johal, from Dumbarton, was taken from a street in the state of Punjab on 4 November.
He has not been charged with any crime and his lawyer claims his client has been tortured by police.
A spokesman for the Foreign Office said they have also met with Mr Johal's family and confirmed that he now has access to a lawyer.
The development came after hundreds of British Sikhs demonstrated outside the Foreign Office demanding the UK government did more to help him.
In a statement released last week, Indian police said they were holding Mr Johal on grounds of financing the purchase of weapons used in the killing of prominent Hindu leaders in Punjab.
The 30-year-old, who was in India for his own wedding, has denied the allegations.
He appeared in court the day after his arrest and he is due back in court on Friday.
Mr Johal's lawyer claims his client has been given electric shocks and subjected to "body separation techniques".
The Sikh Federation has criticised the UK government's response to Mr Johal's detention.
Last week the Federation said it feared Mr Johal had been targeted over his work highlighting the Sikh genocide in 1984 and amid claims he was "influencing the youth through social media".
In a statement, they urged Foreign Secretary Boris Johnson to meet with Mr Johal's family and make representations to his Indian counterpart.
They have also asked for reassurances that a representative of the British High Commission will be in court on Friday.