Big Tax Case judge leaves £3.5m for education trust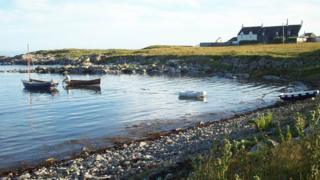 The judge in so-called Big Tax Case involving Rangers FC left £3.5m in his will to set up an educational trust on Tiree.
Kenneth Mure QC, who died last November aged 69, had a home on the Hebridean island where his mother lived.
Mr Mure's published will has revealed he had amassed a £3,763,577 estate at the time of his death.
But only £220,000 was set aside for his loved ones as the remainder will create the Misses Nisbet Educational Fund.
Mr Muir was a highly respected advocate in Scotland and a Queen's Counsel for the UK.
The Glasgow University graduate was qualified in both Scots and English law and was an expert in revenue and property law.
He wrote in his will: "The trust purpose shall be the advancement in education and that for the benefit of residents or former residents of Tiree and in particular those who have attended school in Tiree and such other persons who in the opinion of the trustees have a substantial personal or family connection with Tiree.
"The purpose of the trust may be furthered, in particular, by the provision by grants and interest-free loans, and by the payment of fees to enable or assist recipients in the pursuit of higher or further education including, for example, university, college, agricultural and technical courses, declaring for the avoidance of doubt that such provision, its form and the selection of recipients shall be entirely within the discretion of the trustees whose decision shall be final."
Distinguished career
Documents also reveal Mr Mure had a coin collection worth £28,715, model train sets values at £3,000 and a £500 Volkswagen Beetle.
His home in Giffnock, East Renfrewshire is worth £295,000 while his holiday home and land on Tiree is worth £280,000.
Mr Mure was appointed Advocate for Scotland in 1975 and took silk as a QC for the UK in 1989.
He became a Fellow of the Chartered Institute of Taxation and his principal areas at the Bar included revenue law, partnership law, property law and trusts, and wills and succession.
In 2012 he was appointed to chair the three-person tribunal on the offshore tax avoidance schemes used by Rangers.
More than £47m was paid to players, managers and directors at the club between 2001 and 2010 in tax-free loans.
In November 2012 the panel ruled two-one in favour of Rangers but HM Revenue and Customs (HMRC) argued the payments were earnings and should be taxable.
In July this year the Supreme Court ruled in favour of HMRC in its fight with Rangers over the club's use of Employee Benefit Trusts (EBTs).