Man jailed for raping ex-partner who then took her own life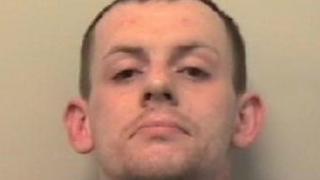 A man who raped his ex-partner while on bail for another sex attack on her has been jailed for 10 years.
Ryan Graham, 27, assaulted the woman - who later took her own life - at a house in Irvine, North Ayrshire, in March.
And days after being granted bail he raped her in her house, despite a condition he should not go near her.
The 34-year-old woman took her own life during a police investigation but a letter was discovered in her home.
In it she described the attack by her former boyfriend.
Graham denied the charges and claimed anything that happened between them sexually on the day of the rape was consensual.
After a trial at the High Court in Glasgow, Graham was unanimously convicted of a violent and sexual assault on the woman on 8 March and raping her on 10 March while on bail.
'Appalling offences'
Judge Sean Murphy QC told Graham: "You have been convicted by the jury of what can only be descried as three appalling offences, committed against the complainer who was very vulnerable for various reasons."
Graham's victim's account was relayed to the court through statements made to police and a letter detailing the brutal rape.
The court heard from PC Fiona Lawrie who read a statement about the 8 March attack.
Jurors heard Ryan got into bed with the woman and pulled the bedclothes off her.
She said: "Ryan then pulled my top up to my arms covering my head, I was crying and telling him 'what you're doing is rape'."
She described a sexual attack on her by Graham while she protested.
He kicked her and threw a torch at her and she told police: "I'm scared of Ryan when he kicks off."
The woman ran for help to a couple who were outside.
But, after being arrested by police and granted bail with conditions not to go near her, Graham returned two days later and raped his victim.
When he left her house she immediately reported him to police and gave another statement, detailing how she was raped.
Harrowing letter
The woman took her own life while police investigations were ongoing.
While clearing out her home, her family discovered a letter about her attack by Graham.
In the letter, she wrote she had bumped into Graham who challenged her for reporting him to police and apologised for what he had done.
She said he "pulled out a small knife and told her to walk".
The letter said he threatened to put the knife in her neck if she didn't let him into her house.
The note then described what happened during the attack.
Donald Findlay QC told the court Graham maintains his innocence and is still grieving for his ex-partner.
He also argued his client's human rights had been breached, as he was unable to cross examine the victim, and told the court the jury was only being presented with hearsay evidence.
Mr Findlay said the letter left by the complainer was "moving" but there was nothing to suggest when it had been written.
But the judge dismissed the argument and said there was evidence of distress on the part of the victim by others which supported her rape claim.