School double-decker bus engulfed by flames in Carluke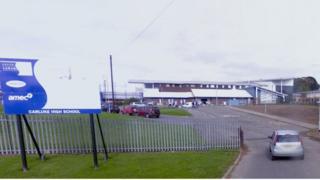 Firefighters were called to a South Lanarkshire secondary school after a bus was engulfed by flames.
The double-decker had been carrying 64 pupils and was parked at Carluke High School when smoke was spotted coming from its engine shortly before 08:45.
A South Lanarkshire Council spokesman said no-one was injured and that the pupils were led to safety before the fire took hold.
The cause of the blaze on board the Stuarts of Carluke bus is unknown.
In addition to the 64 pupils on board, the vehicle was also carrying the driver and two escorts.
South Lanarkshire Council's head of education, Carole McKenzie, paid tribute to the efforts of staff who ensured the incident ended without injury.
She said: "The bus was already parked and all the pupils were safely off the vehicle when this incident occurred, the driver and escorts detected smoke during a routine end of journey inspection.
"Nobody was hurt in this incident and the bus company employees, school staff and pupils reacted admirably, remaining calm and working together to ensure everyone was safe."