Lord advocate fails to back 'fix room' plan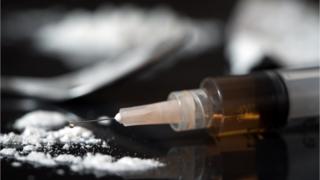 Scotland's top prosecutor has refused to back a controversial plan to set up the UK's first so-called "fix room".
The injecting facility in Glasgow aimed to give drug addicts a safe environment to inject under supervision.
The proposal was being driven by the area health board and city council after a steep rise in HIV cases.
However, the scheme had required Lord Advocate James Wolffe QC to allow possession of street-bought heroin within the facility.
Glasgow, which has an estimated 13,600 problem drug users, has seen a growing number of addicts diagnosed with HIV.
Health officials put the cost to NHS Greater Glasgow and Clyde at more than £29m.
'Next step'
The city's Health and Social Care Partnership (HSCP) had plans to create an injecting facility between Trongate, Saltmarket and the River Clyde, by next year.
The facility would have allowed addicts to bring their own drugs, while a separate area would have given addicts access to heroin-assisted treatment.
Current drug laws are reserved to Westminster, meaning any change to allow a legal exemption for those found in possession of a class A drug within the facility would require new legislation.
A spokesman for the Crown Office said: "The lord advocate has considered the proposals and is of the view that the public interest objective is a health rather than justice one.
"Scottish government health officials will therefore offer to meet with the HSCP to discuss the proposal, its objectives, and how these might best be met."
A spokesman for HSCP said: "We have received a response from the lord advocate and we will be taking some time to study and consider his opinion."
He said that they would meet soon to consider their next step, but added: "We will continue to work with partners with the objective of opening a safe drug consumption facility in Glasgow."
Glasgow Central MP Alison Thewliss said: "I am disappointed that the Lord Advocate has not been able to provide the permission required for this project to go ahead. With rising drug deaths in Scotland, the status quo is failing to tackle the many problems associated with drug addiction.
"In 2015, Glasgow saw a 35% increase in new diagnoses of HIV among people who inject drugs in the city centre. Evidence from safe injecting facilities in other countries demonstrates that they reduce levels of drug addiction, as well as improving public safety through reducing the level of discarded needles and other items of drug paraphernalia in the streets."
"I understand that the Scottish government will continue to work with the Health & Social Care Partnership, and I am hopeful a solution can be found. Doing nothing will continue to leave vulnerable people injecting on our streets, and the local communities I represent without a solution to this public health issue."