Inaya Ahmed murder trial: Mother cleared of smothering toddler with pillow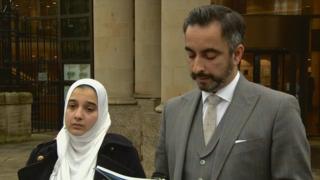 A mother has been cleared of murdering her 14-month-old daughter.
The charge that Sadia Ahmed, 28, smothered toddler Inaya with a pillow at their home in Drumchapel, Glasgow, on 17 April 2016 was found not proven.
Mrs Ahmed had told jurors at the High Court in Glasgow that her daughter choked on a piece of toast.
She sat emotionless in the dock as the verdict was returned. But, as she left the court, she broke down in the arms of her mother.
Mrs Ahmed later gave a statement through her lawyer Aamer Anwar, in which she said she "died" the day she lost Inaya and "nothing would ever take the pain away".
'Joy to my life'
The statement said: "The short times I got to spend with my daughter Inaya will forever be the most cherished moments of my life.
"She passed away on the 20th of April last year at an age of just 14 months. The day she was born brought joy to my life, which had become full of such suffering since the day I was married.
"No one can imagine the pain of a mother losing her baby. I will never see her smile again or be able to hold her in my arms.
"The nightmare did not end with her death but continued with being accused of the most horrific crime possible - the murder of one's child, my Inaya."
Mrs Ahmed added: "I loved her more than anything in this world and always will.
"From the outset, I have protested my innocence and am grateful to my legal team for all their hard work and fighting for the right verdict today. But my life is over - I died the day I lost my Inaya. Nothing will ever take that pain away."
After a 21-day trial, the jury of eight women and seven men took just over an hour to find the charge against Mrs Ahmed not proven.
Judge Lord Matthews told them: "It's not meant to be an enjoyable business. At the end of the day, Inaya is dead. It's a terrible tragedy and we had to pick over the bones of it."
Members of the Ahmed family - including the accused mother's husband Suleman - had claimed she confessed to them that she had killed Inaya.
The child's grandmother Noor Ahmed claimed her daughter-in-law Sadia Ahmed said she had put the little girl to sleep "forever".
---
What is the not proven verdict?
Scotland, unlike most of the world's legal systems, has three possible verdicts in criminal cases - guilty, not guilty and not proven
The legal implications of a not proven verdict are the same as with a not guilty verdict: the accused is acquitted and is innocent in the eyes of the law
Not proven is seen by some as offering additional protection to the accused
But critics argue that it is confusing for juries and the public, can stigmatise an accused person and fail to provide closure for victims
Scottish juries - consisting of 15 people - were historically able to return only proven or not proven verdicts
A third verdict of not guilty was introduced in the 1700s and became more commonly used than not proven
However, the option of returning a verdict of not proven was never removed
In more recent years, the general perception has been that a "not proven" verdict suggests a sheriff or jury believes the accused is guilty, but does not have sufficient evidence to convict
---
But several family members also admitted they had lied to police about the death being an accident when officers had been called to investigate the incident.
There were also allegations that Mrs Ahmed's parents, who had been in Pakistan at the time, had initially put pressure on her in-laws to lie about Inaya's death.
The court had heard that a large extended family lived in the six-bedroom Drumchapel home.
A member of the family called police and paramedics to the house a about 11:00 on 17 April last year.
They found the toddler's face "turning blue" after attempts by relatives to revive her.
'Completely shattered'
Inaya was taken to the Royal Hospital for Children and died there on 20 April.
The court heard that the cause of death was irreversible brain damage as a result of a lack of blood and oxygen.
In a statement, the Ahmed family said their lives had been "completely shattered" by Inaya's death.
"There isn't a single moment that goes by where she isn't missed," said the statement.
"The last 18 months have been the most difficult in our lives and as a family we have struggled to deal with our loss.
"After today's verdict, we will need to find a way to move forward, but Inayah will never be forgotten."