Clutha crash injured given £1.3m compensation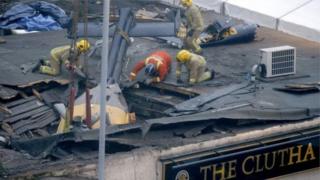 Ten people injured in the Clutha crash have secured compensation of £1.3m from the helicopter company's owners.
Deals of between £5,000 and £600,000 have been struck by one legal firm on the victims' behalf.
Ten people died and 31 were hurt when a police helicopter crashed into the roof of the Glasgow pub on 29 November 2013.
The latest payments are thought to include compensation for serious head and back injuries, and stress-related illnesses caused by the crash.
An investigation in 2015 found that helicopter's fuel transfer switches were turned off at the time of the crash.
But it could not answer why the pilot did not land or send a distress call.
Babcock, which owns the police helicopter operator Bond Air Services, admitted liability but disputed how much it should pay those injured in the crash.
Mark Gibson, a partner at legal firm Digby Brown which secured the latest deals, said: "The Clutha tragedy was an unprecedented event that caused devastation for hundreds, if not thousands, of people across the country.
"No amount of money can prevent the life-changing events of that night in 2013.
"But compensation does give these individuals the means to get their lives back on track so they can focus on recovering with their loved ones.
"To respect our clients' privacy we will not discuss individual cases, however we can confirm our cases have now settled."
Last month, the son of a man killed in the Clutha disaster finally won his damages claim.
John McGarrigle was one of the 10 who died in the tragedy but his son, also called John, had to wait four years to receive compensation from the helicopter operator.
His lawyer said Babcock tried to block the claim by arguing the father and son did not have a close relationship.
However, they reached an out-of-court settlement in October.
It is understood that Mr McGarrigle received a five-figure sum.