Inaya Ahmed murder trial: Toddler's death 'came out of the blue'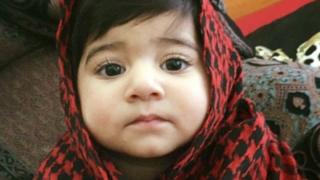 The aunt of toddler Inaya Ahmed told a murder trial that the child's death "came out of the blue".
Kiran Sultan, 36, said the little girl had been at her home the night before she was allegedly attacked and was "fine".
Ms Sultan was giving evidence at the trial of Inaya's mother Sadia Ahmed.
Mrs Ahmed, 28, denies murdering her 14-month-old daughter at the family home in Drumchapel, Glasgow, on 17 April last year.
The child was on a life-support machine for three days before she died.
Mrs Sultan told the jury at the High Court in Glasgow that on 16 April, 2016, she held a dinner party for family and friends at her Glasgow home. Among the guests were Inaya and her mother Mrs Ahmed.
She said: "Inaya was playing with my kids," before breaking down and sobbing.
Later in evidence, the mother-of-three added: "Inaya was in my house the night before and was fine and Sadia was fine. They left about 10pm.
'Something wrong'
"The next morning, how could somebody just kill somebody? How could somebody just do that out of the blue? I just didn't believe it."
Mrs Sultan said she phoned Mrs Ahmed's home on the morning on 17 April and, realising something was wrong, decided to go there.
She was asked by prosecutor Paul Kearney what she saw, and replied: "My mum Noor was crying and my brother Wacus was giving CPR to Inaya.
"Inaya's lips were blue. When I saw her the previous night she was fine."
The court was told that after Inaya was taken to hospital in an ambulance, Mrs Sultan saw Mrs Ahmed in the kitchen.
She was asked how Mrs Ahmed appeared, and replied: "Blank."
The jurors were told that in two police statements given on 17 April and 4 May 2016, Mrs Sultan said she was told by her mother that Inaya was not breathing and had choked on bread.
'Struck on the head'
But in court she claimed that her mother told her: "Sadia has killed Inaya."
Ian Duguid QC, defending, asked her: "Is it not the case that you are lying in court today?" and the witness replied: "Why would I lie?"
She then said that her brother Suleman Ahmed - Inaya's father - had given her information about the post-mortem examination carried out on the little girl.
Mrs Sultan said: "He told me she was shaken, struck on the head and her breathing was restricted."
The QC then said: "She wasn't shaken and she wasn't struck on the head. It seems your family changed your story when you heard about the post-mortem." Mrs Sultan said: "A post-mortem can't lie."
Mr Duguid then said: "The accuracy of your information might be disputed."
He then asked Mrs Sultan why, if she thought Mrs Ahmed was a killer, she and her husband and children had visited her in London.
She responded: "I made a mistake, a grave mistake."
The trial before judge Lord Matthews continues.