Missing supermarket worker seen in London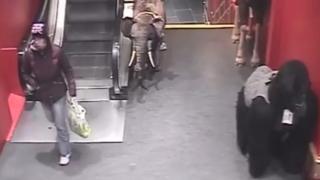 A supermarket worker who has been missing from Clydebank since Saturday morning has been spotted in London.
Karen Brown, 47, left the family home on Kirkwood Avenue at 07:00 but failed to turn up for her 10:00 shift at Asda.
Detectives have now established she took a Megabus to London from Buchanan Street Bus Station in Glasgow at 08:20 that morning.
And they revealed a woman from Clydebank met Mrs Brown in London at 10:20 on Tuesday.
Following the sighting at Hamley's on Regent Street, officers obtained CCTV from the toy store.
They are now working with their colleagues in the Metropolitan Police in a bid to map Mrs Brown's movements.
Her husband Jock, 48, reported the mother-of-two missing after she failed to return home from work on Saturday.
Appearing at a media briefing on Wednesday, the engineer made an emotional appeal for his wife's safe return.
Fighting back tears, Mr Brown said: "Karen, please come home. We love you."
He was joined by daughter Jemma, 22, who recently gave birth to Mrs Brown's first grandchild, 10-week old Millie.
The couple, who have been married for 28 years, also have a 12-year-old daughter, Chloe.
Mr Brown last saw his wife just before midnight on Friday.
When he woke up at 07:30 on Saturday Mrs Brown had left.
The Asda Superstore, in the Clyde Shopping Centre retail park, is around a mile from the family home but the checkout operator never arrived.
Emotional appeal
Mr Brown urged his wife to get in touch with the family directly or the police.
He said: "We know we have had a lot on our minds recently and a lot on our plate and we want you to come home.
"We all miss and love you and you are needed here. Please contact us direct or contact the missing people team on 116 000".
Mrs Brown does not have any relatives in London but has visited the capital with her family several times.
Mr Brown described her disappearance as "extremely unusual" and out of character.
But the Hamley's sighting has given the family hope after a difficult few days.
Asked what might have caused his wife to leave home, he replied: "To be honest Karen is a bit of a worrier. She has been preoccupied. I can only speculate why. I don't really know.
"That's a question that one day might be answered by Karen but, here today, I have no clue what that is."
Public support
Mr Brown said the family have drawn comfort from the support they have received from social media and parents from Chloe's dance school.
Mrs Brown left her mobile, purse and handbag at home but it thought to be carrying cash.
Police also confirmed she did not book her Megabus ticket in advance.
Insp David Quinn said: "We have carried out extensive inquiries but so far we have no trace of her on CCTV in the West Dunbartonshire area.
"However, as recently as yesterday we have had a possible sighting in London where a witness from the Clydebank area has come forward to say they spoke to Karen in Hamley's toy store on Regent Street in London.
"Extensive police inquiries have been carried out to support this sighting and we now have a confirmed sighting of Karen getting on a Megabus to London at 08:20 on Saturday."
'More and more concerned'
Insp Quinn confirmed the woman who approached Karen did not know her but recognised her from social media appeals.
The woman simply asked if she was Karen Brown and Mrs Brown replied: "Yes."
No other details about the meeting have been released.
CCTV from the toy store later confirmed the woman was Mrs Brown.
Mrs Brown is 5ft 6in, with brown, collar length hair.
She was wearing a light pink fleece, light blue denims, white trainers and was carrying an Asda Bag for Life.
When captured on CCTV in Hamley's Mrs Brown was wearing a burgundy Puffa style jacket and carrying an identical carrier bag.
Insp Quinn added: "As time goes on, and she has now been missing without any contact with her family since Friday, we are certainly becoming more and more concerned for her well-being.
"We can't see any apparent reason for Karen being missing."