Toddler murder trial told of grandmother's scream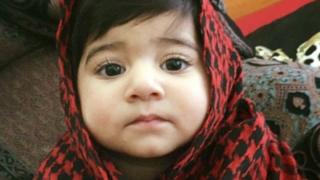 The grandmother of toddler Inaya Ahmed has told a murder trial that she screamed when she realised her granddaughter was dying.
Noor Ahmed, 60, said her daughter-in-law, murder accused Sadia Ahmed, came downstairs and the child's head was on her shoulder.
Ms Ahmed, 27, is accused of assaulting Inaya Ahmed in April last year at the family home in Drumchapel, Glasgow.
Inaya died in hospital days later. Ms Ahmed denies murdering the child.
Noor Ahmed told the jury at the High Court in Glasgow: "I asked 'has Inaya gone to sleep' and Sadia replied 'I have put her to sleep forever.'"
Prosecutor Paul Kearney asked her: "What was Sadia's emotion when she was telling you this," and she responded: "She was normal, she was completely normal.
"Obviously when she said these words to me I started screaming. I didn't know what else to do.
"I got up to see what was the matter with Inaya. When I held her, her neck dropped to one side. And I screamed."
Ms Ahmed is accused of murdering 14-month-old Inaya at their Glasgow home on 17 April 2016.
Her mother-in-law said she told her husband what had happened and then her son Wacas Ahmed came downstairs and she told him to phone the police and an ambulance.
Mr Kearney said: "Why did you ask him to phone the police?"
Noor Ahmed replied: "Because she had killed Inaya."
Choking claim
The 14-month-old died at the Royal Hospital for Children on 20 April last year.
Noor Ahmed, who gave her evidence through an interpreter, admitted she told police in a statement that Inaya's death was an accident and that she had choked.
But in court she said that was a lie, adding: "I'm here to get justice for Inaya."
She said she had asked her daughter-in-law three times what she had done and told the jury: "She said it was between her and her Allah and that she was not telling me."
The jury heard that during a police search of the house, about £34,000 was found in cash in two bags stored in the loft.
Noor Ahmed said it was money that was being saving up by all the family for a pilgrimage.
The trial before judge Lord Matthews continues.