'Dangerous' rapist told he may never be released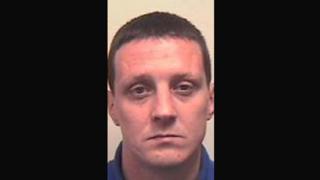 A rapist who attacked two women only days after being released from prison has been told he could spend the rest of his life in jail.
Raymond Dempster, 39, has been given a lifelong restriction order for the attacks in Glasgow in June.
Demspter will have to serve at least five years in prison before being eligible for release.
But a judge said he was "dangerous" and a "very significant risk" to women, and that he may never be freed.
Dempster has 110 previous convictions for crimes including breaching the conditions of the sex offenders' register, dishonesty and violence.
Released early
He is one of only 164 people to be given a lifelong restriction order since 2006, meaning he will be subject to imprisonment or supervision for the rest of his life.
The High Court in Glasgow heard how Dempster had been released early from a sentence for robbery and assault when he raped a vulnerable 42-year-old woman in the east end of Glasgow in June 2016.
He attacked her after she was locked out of her home and he helped her to get back into the property.
Days later he attacked a 19-year-old student in the city's west end.
She was walking home along Kelvin Walkway in the early hours when she became aware that Dempster was following her.
He grabbed her and forced her to the ground.
The woman fought back, kicking Dempster in the face, at which point he ran off. He was later identified from CCTV footage.
'Significant risk'
Judge Norman Ritchie QC praised the teenager's bravery in fighting Dempster off.
He read a 90-page risk assessment report, which revealed Dempster was an "opportunistic sexual aggressor of women".
The judge told him: "You are a dangerous violent criminal and represent a very significant risk to the public and particularly women."
He added: "Many hundreds of orders for lifelong restriction have been made, but very few will be released.
"For you, release may never happen."
Speaking outside the court, the student said: "I'm very relieved he's not going to be released from prison for a very long time.
"I'm glad it wasn't a more vulnerable woman he picked on that night.
"He underestimated me. I don't think he thought I would fight back."