Toddler murder trial told of screams at Glasgow house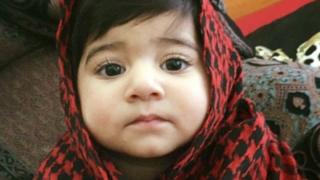 The brother-in-law of a woman accused of killing her 14-month-old daughter said he was awakend by loud screaming.
Wacas Ahmed, 22, told the High Court in Glasgow that he ran downstairs and saw his toddler niece "looking basically dead" on a bed in his mother's room.
Sadia Ahmed, 26, is alleged to have assaulted Inaya Ahmed on 17 April 2016 at the family home in Drumchapel, Glasgow.
The toddler died three days later in the city's Royal Hospital for Children.
Prosecutors allege Ms Ahmed murdered her daughter by placing a cushion over her face and shaking her.
'Phoned 999'
The jury was told that when Wacas Ahmed came downstairs his mother Noor Ahmed and his sister Shagufta Yasmin were standing beside the door to the room and Sadia Ahmed was standing beside the kitchen.
Prosecutor Paul Kearney asked: "Was anyone tending to Inaya?"
Mr Ahmed replied: "No. She was lying on her back and she was blue in the face. I immediately phoned 999."
He was asked how his mother and sister seemed and replied: "They were emotional and stressed to the max."
He told jurors: "My mother said that Sadia had killed Inaya."
Mr Ahmed was then asked about Ms Ahmed and he replied: "She was emotionless."
The jury heard the 999 call in which Mr Ahmed told the operator: "We have got a kid that's not breathing. The mother's been abusing her."
Mr Ahmed was asked what has happened and replied: "I think the mother has been abusing her. I don't know what happened."
'Lied to police'
Mr Ahmed told the jury that he had lied to police telling them that Inaya had choked on a piece of bread.
He added: "I didn't want to do it, but because of family pressure I went along with it."
The court heard that Ms Ahmed suffered from post natal depression after Inaya was born and was in hospital for two to three weeks.
It is also alleged Ms Ahmed seized hold of the toddler's tongue and force fed her bottles and syringes of milk.
She is accused of striking the toddler on the head and body, shouting at her, and throwing her into a cot.
Ms Ahmed is also charged with attempting to pervert the course of justice by threatening to kill 18-year-old Suha Ahmed, presenting a knife at her and demanding she say that Inaya had choked.
Ms Ahmed's QC Ian Duguid has entered not guilty pleas to all the charges on her behalf.
The trial before judge Lord Matthews continues.