Baby death trial teenager denies kicking pregnant partner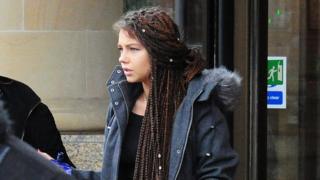 A teenager told police that he did not punch or kick his pregnant partner, whose baby he is accused of killing.
The High Court in Glasgow was shown a police interview with Mr Butterworth, who is charged with the culpable homicide of his baby son Lucas.
Jack Butterworth, 18, denies assaulting Katie Strawhorn, 20, in Kilmarnock, East Ayrshire, last November, causing her to suffer placental abruption.
The baby died five days after being born by emergency caesarean section.
During the police interview, it was put to Mr Butterworth that a female had been heard screaming on the morning of the alleged attack.
He was told the claims were made by people who had "nothing to do" with him or Ms Strawhorn and "did not have an agenda".
Det Sgt Kevin Gilmour asked him: "Did you punch her?" Mr Butterworth replied: "No."
The officer then quizzed him on whether he "kicked" Ms Strawhorn. Mr Butterworth again said no.
'Blunt force trauma'
The indictment includes claims Mr Butterworth did "kick her on the stomach" as well as chase and cause her to "flee and fall".
It is also alleged he did "repeatedly inflict blunt force trauma on her head and body".
Ms Strawhorn was 36 weeks pregnant at the time.
She is said to have suffered a "placental abruption" resulting in Lucas being born by emergency caesarean section.
The baby was said to have so severely injured that he died later in hospital.
'Broke furniture'
Mr Butterworth faces a separate charge of assaulting Katie between January and November 2016.
This includes a claim he threw fire crackers at her as well as punching and kicking her.
A further charge claims he behaved in a threatening manner towards the baby's mother and another woman.
Prosecutors allege - amongst other accusations -that he broke wardrobe mirrors and threw furniture.
He denies the charges and the trial, before Judge Lord Ericht, continues.