Queen Elizabeth University Hospital 'progress' over cleanliness concern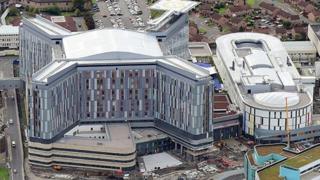 Inspectors have praised "good progress" at a Glasgow hospital criticised earlier in the year over the contamination of patient equipment.
Blood and faeces were found on patient trolleys and mattresses at the Queen Elizabeth University Hospital during an inspection in January 2017.
Healthcare Improvement Scotland (HIS) inspectors made an unannounced follow-up visit on 1 and 2 August.
They said a number of improvements had been made at the hospital.
Other criticisms made following the January inspection included:
Staff not always carrying out standard infection control in the emergency department, immediate assessment unit and clinical decisions unit
Majority of patient trolleys and wheelchairs dirty - some contaminated with blood and body fluids
Patient and public toilets also found to be contaminated by blood and faeces
Concerns were also raised about hand hygiene levels during busy periods, as well as appropriate use of staff protective clothing.
However, cleanliness in the majority of wards and staff knowledge of standard infection control precautions was found to be generally good.
Number of improvements
Speaking after the August visit, senior inspector Alastair McGown said: "During this inspection of Queen Elizabeth University Hospital, we were pleased to see that good progress had been made in relation to the issues we identified at our last safety and cleanliness inspection earlier this year.
"We saw a number of improvements, including the use of weekly environmental cleanliness audits, the retraining of facilities management staff and domestic supervisors, and improved cleanliness of public areas.
"Moreover, hand hygiene compliance was good with nursing and domestic staff, but a number of medical staff did not take the opportunity to perform hand hygiene at the appropriate times."
Mr McGown added that HIS would continue to monitor progress.